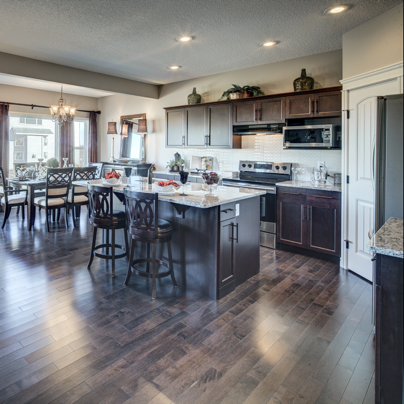 You've moved into your new home and finally finished unpacking. Everything is settled! As you approach the one year anniversary of your new home, you need to take care of something else—the One-Year Warranty checklist! Every new home in Alberta has a mandatory warranty, and Pacesetter is no different. This is when you take a look for any problems or issues you need your builder to address and the perfect time to perform a homeowner maintenance check on your home. 
Your warranty comes with a standard maintenance plan, but you can add other items that you want to review with your builder too. If it is covered, great! If not, they'll let you know and you can have peace of mind knowing you asked.
Some Key Points
As you're making notes, make sure you include as much detail as possible. If you can, take a photo or two to include with your warranty request.
Include details like which room the problem is located in and where in that room the specific problem is. An example of this would be: "In the owner's suite the left door of the french doors is sticking at the top (left side when looking from inside the room)." If there's more than one issue in a single room, document them both separately. The more detailed the better, as this can help your builder assess your warranty issues more accurately!
There are usually one or two rooms in your home you don't use very often, like the spare room. Don't forget to go into these rooms and check them out as well.
Other Items to Note
At Pacesetter, we want you to get more out of your home—and that means getting more out of your warranty. If you're not sure what to evaluate when creating your list, use these suggestions to get started:
Check your doors and windows and make sure all the mechanisms are working properly

Try all your plug-ins and switches

Flush all the toilets

Fill your sinks and tubs to ensure the plumbing is working properly. Don't forget to check the stoppers!

Check your tubs and counters to ensure the silicone still looks good

Check your fireplace (if applicable)

Check your furnace, even if it's summer
Take a walk around the exterior of your property as well. Check the windows and doors to make sure they look good from both inside and outside your home. You'll want to make sure your home doesn't have any structural defects either.
What's Included?
If you have a concern, but you don't know if it's covered under your warranty, write it down anyway. The service department at your builder will let you know if something isn't covered. In most cases normal wear and tear issues, like paint, floor, or tub scratches, aren't covered under your warranty. Some builders, like Pacesetter, provide more by offering courtesy repairs of drywall issues caused by settlement and drying, but usually painting the repairs is up to you.
The key when preparing the one-year warranty request is to be thorough. Make a complete list of all your concerns and submit the list to your builder in writing. The submitted list must have every item noted. Usually, additional warranty items will not be accepted once the trades people or technicians are onsite. Trades and technicians are often limited to the repairs that have been pre-authorized and they won't be able to add additional repairs once they are onsite.  Every builder completes the one-year service differently, so please contact the service/warranty department of your builder if you have any questions regarding the warranty process.
To learn more about your warranty, contact us at: serviceedm@qualico.com