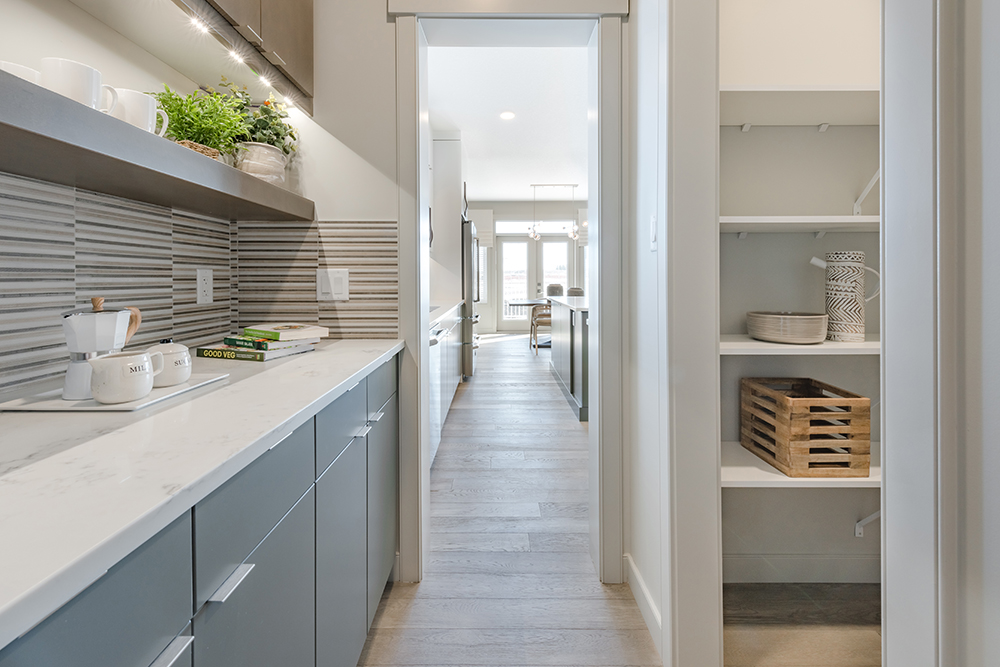 The Butler Pantry in the Quincy at Summerwood
Traditionally a butler pantry was a behind the scenes room between the kitchen and dining room used to prepare and serve meals. Now it is the secret ingredient for organized storage and extra prep space. Here are four reasons why you need a butler pantry:
Minimizing smell
If you enjoy cooking savory and flavourful foods but don't want aromas flooding your whole house, some homeowners utilize a separate secondary kitchen (butler pantry) sealed off from the rest of the space to cook traditional family favorites.
Appliance storage
Many recipes can be easily made with the help of useful yet bulky equipment that covers precious kitchen countertops such as one pot cookers, air fryers, juicers and soda makers. Having a separate storage area to put away large appliances makes it easy to access rather than tucking them away on a top shelf to collect dust.  A walk-in butler pantry allows the kitchen to remain an inviting work space without the added clutter of cookware. Pacesetter homes can include a butler pantry with a variety of cabinetry including layered pull drawers, open or closed shelving, natural light from windows or motion lighting and storage options that best fit your lifestyle.
Extra Helpers area
Butler pantries are a practical addition for people who might be running a home based business and need a separate space for staff to access during meal times or when hosting networking gatherings. A pantry behind the kitchen can provide additional room for food prep with a second sink to help with control the overflow of dishes and additional counters for a coffee bar.
Glassware storage
Socialites that enjoy entertaining friends and family regularly may use a butler pantry to incorporate their barware including wine storage. It can transform a wine cellar into a fully functional and versatile space.
If the kitchen is the heart of the home, why not have two – add a butler pantry! See possible interior selections from our design centre here.