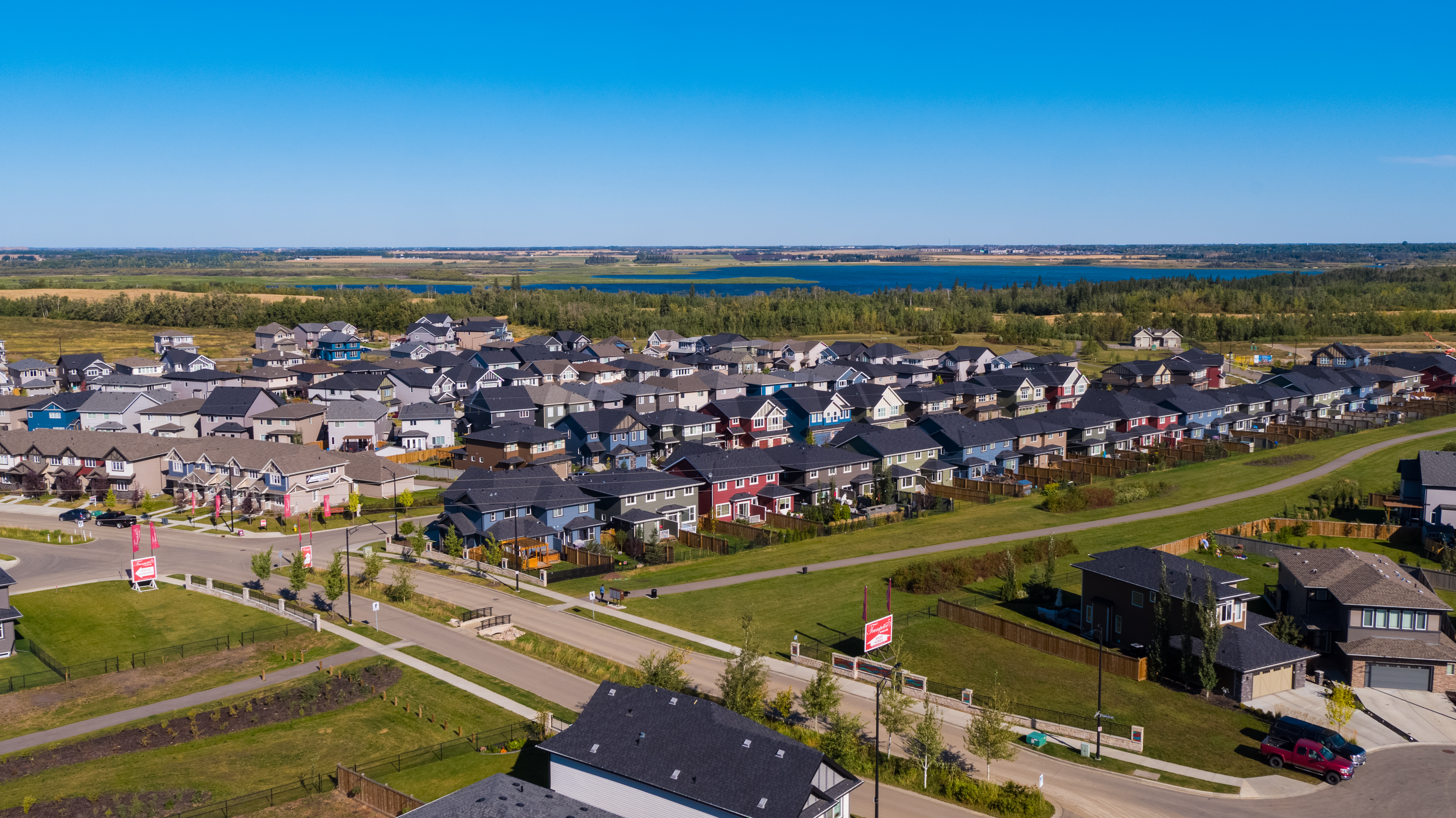 In Edmonton's northwest, just shy of St. Albert is a quiet, urban-yet-rural community that feels far removed from the hustle and bustle of city living. A truly unique community, Trumpeter by Big Lake is designed to be low impact, nurturing the glorious 67 acres of environmental reserve surrounding it. Enjoy the balance between city living, with access to amenities, and the quiet, natural environment of rural lifestyles.
Preserving the Wildlife
Big Lake is protected as a bird sanctuary, which attracts not only hundreds of bird species, but other wildlife as well. As such, Trumpeter has been designed to encourage natural wildlife activity. Wildlife corridors are constructed throughout the community to allow natural movement but also protect from the danger of vehicles and prevent excessive human interaction.
A family of moose have lived in the area for several years, and have safely traveled throughout the area without being disrupted. Residents enjoy seeing the family pop up in various parts of the area, adding to the rural feel of the community.
Additionally, the community's lighting is designed with low-light LED streetlamps, minimizing light pollution. Enjoy a star-gazing evening on your back deck.
Bioswales Make a Cleaner Community
Dotted throughout the community are medians and parks planted with natural flora. This wild plant life provides aid in water filtration, air purification, and provides the right environment for the wildlife that inhabit the area.
Trumpeter is home to a variety of wetlands and ponds that provide homes to hundreds of species such as beavers, deer, and birds. Drop your kayak into Big Lake, part of the Lois Hole Centennial Provincial Park, and enjoy fishing for Northern Pike, Walleye, and Stickleback fish. Or, if fishing isn't your thing bring a picnic basket and enjoy the sun and fresh air at Horseshoe Lake and Ravine, just to the south of Trumpeter.
Active Resident and Commercial Amenities
Trumpeter has a new social centre dedicated to area residents. Trumpeter Landing offers a thriving gathering place for families to meet and play. In the winter, enjoy the tobogganing hill, and in the summer the soccer fields. A year-round playground offers a convenient place to blow off some steam, as well as five kilometres of integrated nature trails. The Big Lake Community League also provides regular functions to attend throughout the year.
Commercial shops and services are centrally located on Trumpeter Way near the social centre, offering services such as daycare, convenience store, and restaurants. In addition, major shops and amenities are located just minutes away in St. Albert just up Ray Gibbon Drive.
This vibrant community is located just off the Anthony Henday Drive and Ray Gibbon Drive, with additional access via Winterburn Road. St. Albert is mere minutes away for any shops and services you could need.
Trumpeter by Big Lake is a master planned community, offering a living experience not found anywhere else in the Edmonton area. Residents truly enjoy a rural lifestyle with sounds of nature, fresh air, and a quiet environment, yet quick and easy access to municipal amenities. If you're seeking a home in and around nature, you'll find it here.