One of Pacesetter Homes' newest and most darling new front attached garage models is the Calypso. Introduced in early 2019, this 1911 square foot home is designed for the homeowner looking for an elegant mix of affordability and functionality. First time buyers will love this model as it offers a variety of flex spaces that can be used for just about any lifestyle need. The Calypso also makes an ideal home into which to downsize due to its accommodating features.
About the Calypso Floor Plan
On the main floor you'll find a spacious foyer and open concept lifestyle room. This room is designed as a flexible space that can be any number of things, including a formal dining room, home office, library, music room, or kids' playroom. Just past the lifestyle room is the real wow factor of this home, which is an open concept kitchen, nook, and spectacular open-to-above great room. The windows scale the entire height of the great room, creating a grand effect typically found in estate homes.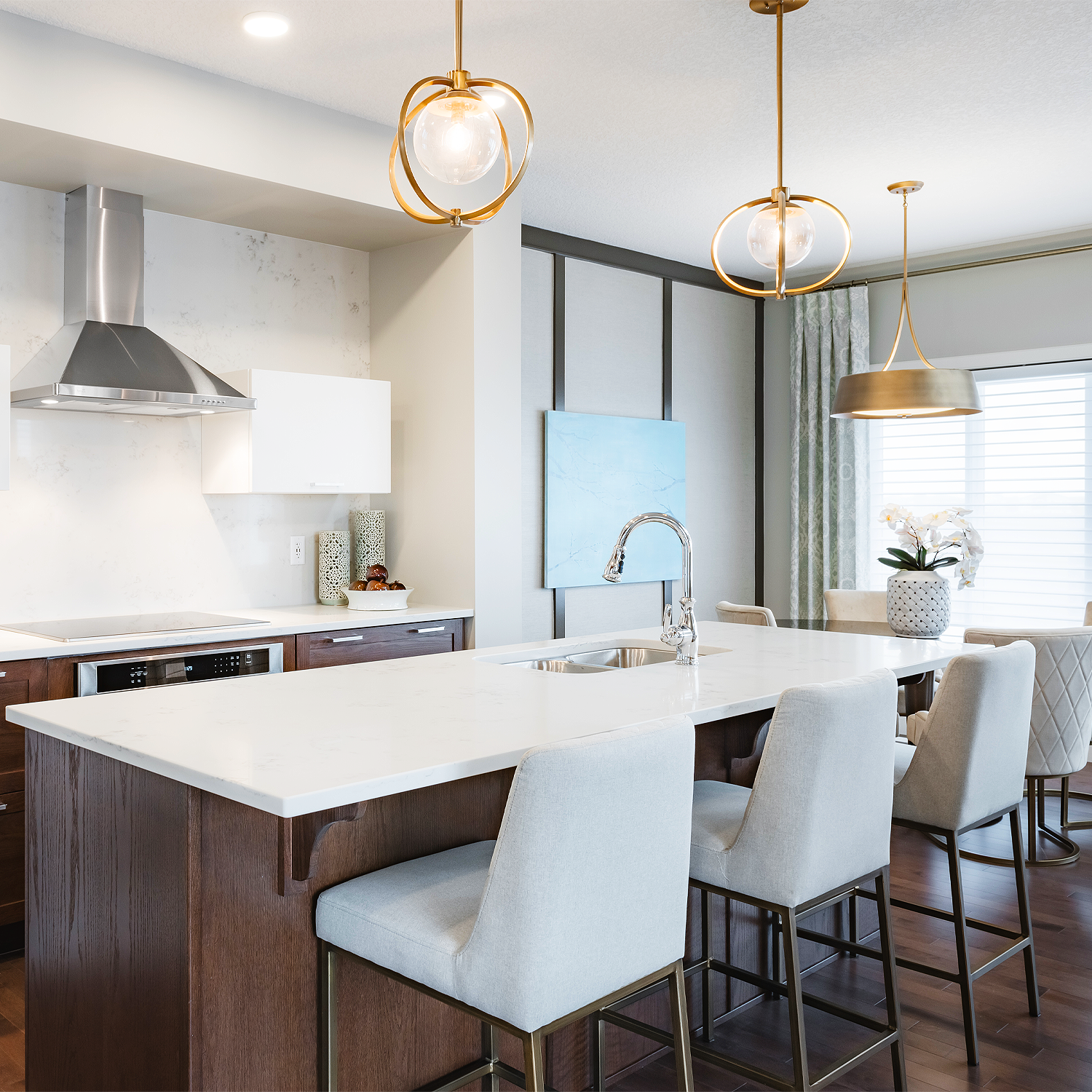 If you opt to build this model from scratch, you can add in a fireplace, which creates even more elegance in the great room with its two-floor wall height. You can choose to tile or stone the full height above the fireplace, or simply add a mantle and hang a stunning piece of art in the vast space above. A fireplace is not standard in this model, but it doesn't take away from the incredible atmosphere this space creates.
Functional features on the main floor include a walk-through pantry from the garage door, a half bath, and a large kitchen island. The front attached garage offers enough space for two cars or a single larger vehicle with storage space.
Up the gorgeous, open staircase you'll land in the upper floor's loft space. This flexible space can be used as a media room, extra lounge room, kids' playroom, homework space, or any number of other uses. The loft overlooks the open-to-below space, allowing plenty of light to flood in from the grand windows in the great room. A full-sized main bathroom is located directly adjacent to the loft for utmost convenience.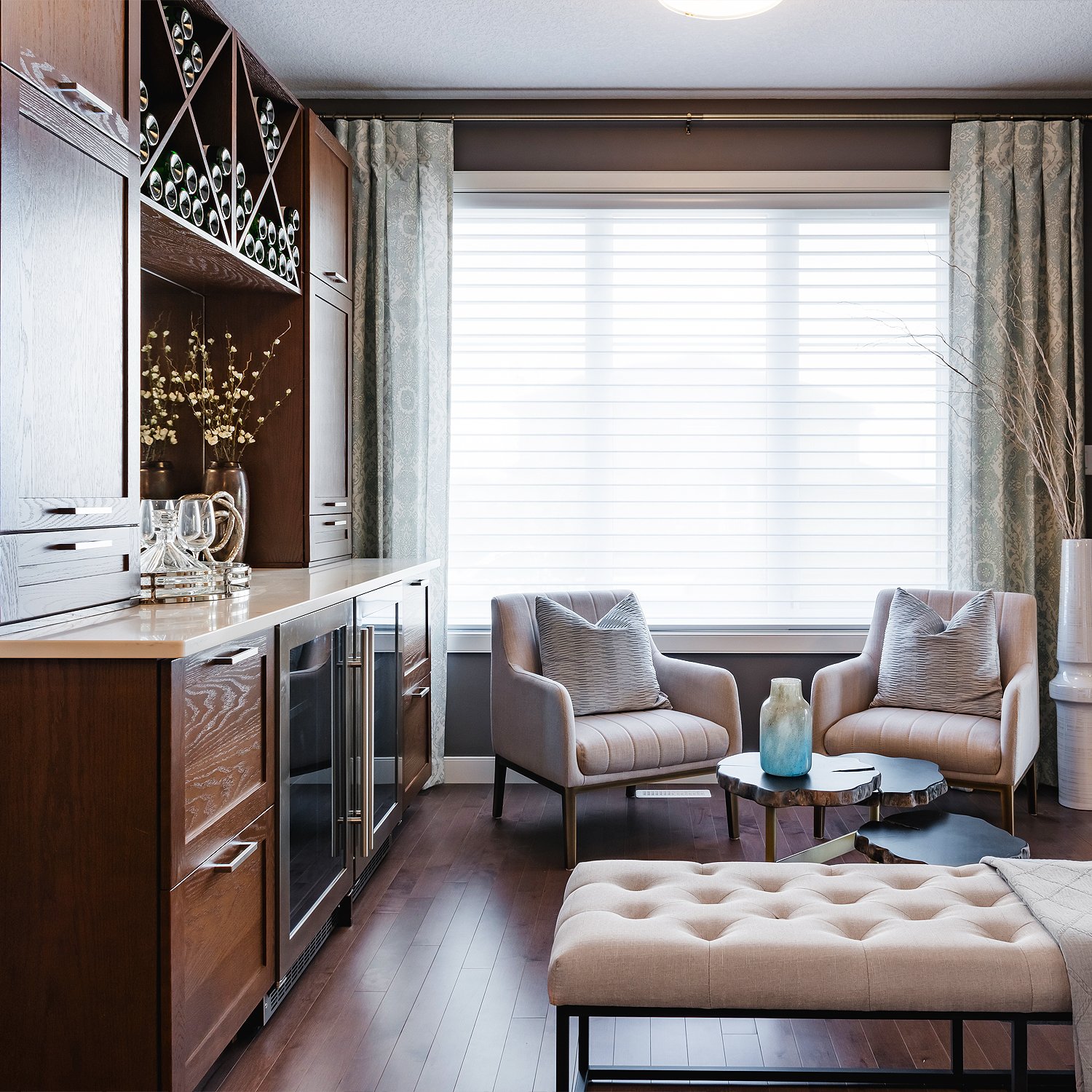 Toward the front of the home is the full owner's suite, including a bedroom large enough to host a king-sized bed, as well as a large walk-in closet and spacious ensuite. The ensuite hosts dual sinks with a functional storage tower in between, as well as a private water closet and stand-up shower with bench.
The laundry room is conveniently located on the upper floor as well, near the loft space. One of the secondary bedrooms is nestled between the loft and owner's suite, providing the ideal arrangement for a young family. The third bedroom is located opposite the loft next to the open-to-below space. Both secondary bedrooms offer enough space for double-sized beds in either room, or single beds and a small desk.
Where Can I Build the Calypso?
This versatile model can be built in a variety of Edmonton and area communities, providing opportunity to own this home in your preferred neighbourhood.
North Edmonton: Cy Becker, Newcastle
Cy Becker is a northeast community with ultra convenient access to major arteries such as Manning Drive and Anthony Henday Drive, as well as commercial amenities such as Manning Town Centre. This community has won Best Community in Edmonton a number of times for its overall design concept and all seasons park. This park includes amenities such as a promenade and plaza that converts into an ice rink during winter months, a rolling hill for ideal tobogganing, sledding, and tubing, a modern playground, and everyone's favourite feature, the splash park for summer months.
Newcastle in Edmonton's northwest offers easy access to Anthony Henday Drive and 127 Street, providing a quick commute to downtown or other parts of the city. Newcastle offers its own commercial centre on the both sides of Rapperswill Drive and 127 Street, providing shopping, restaurants, and medical facilities. Newcastle's design incorporates beautiful tree lines, making the area feel more natural and green.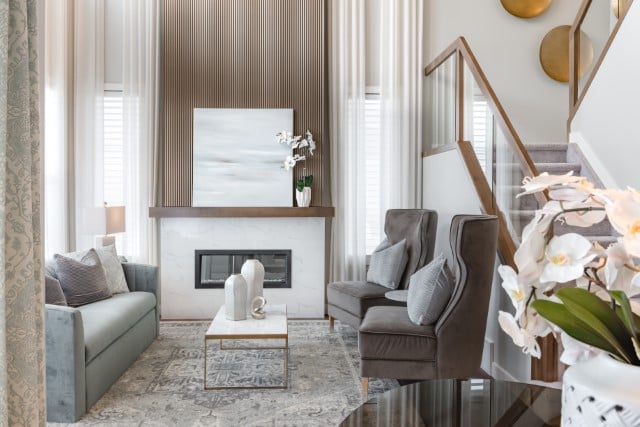 Southeast Edmonton: Laurel Crossing, Tamarack
Laurel Crossing and Tamarack are both conveniently located near Anthony Henday Drive and 17 Street, nestled among a variety of commercial zones. Both areas are on either side of the Meadows Recreation Centre, one of Edmonton's newest family-friendly, state-of-the-art facilities.
Southwest Edmonton: Crimson at Creekwood Chappelle, Keswick Landing, Langdale, Graydon Hill, Desrochers, Uplands at Riverview
Edmonton's southwest offers a large selection of communities in which the Calypso can be built. Keswick Landing and Langdale are both located within the Greater Windermere area, and are within minutes of Anthony Henday and the Windermere Currents shopping centre.
Crimson at Creekwood Chappelle, Desrochers, and Graydon Hill are part of the Heritage Valley and have exciting new amenities underway. New shopping areas along James Mowatt Drive are nearly complete, and the anticipated Valley Line LRT is in development. The park-and-ride zone along Ellerslie Road is nearly complete, and the new on-ramp/off-ramp on 135 Street to Anthony Henday Drive is now open.
Uplands at Riverview is a unique community located in what seems like an outer-limits part of Edmonton, but it is surprisingly easy to get to. This is a 25-year project with several phases to come, but is already well underway. A major commercial zone is planned for this community which will act like a town centre for the area. Access is south of Lessard Road on 199 Street, so there is also convenient access to all of the commercial amenities in the Hamptons and the Grange, which are only minutes away.
Fort Saskatchewan: Forest Ridge
If you prefer to live in Fort Saskatchewan, the Calypso is available in Forest Ridge. Located on the south side of the city near Highway 21, this well-established community is also near a wetland conservation area, the Interpretive Forest, and the Dow Ball Fields.
Leduc: Meadowview
A newer community in the City of Leduc is Meadowview, located on the southeast quadrant of the city. From this quiet, serene community you have quick access to both Rollyview Road/Highway 623 via C.W. Gaetz Road. The Leduc Recreation Centre is minutes away, as well as the K9 Off-leash Dog Park. Life is more affordable in Leduc, and the Calypso is the ideal home if you're looking to stretch your dollar.
Sherwood Park: Summerwood
Summerwood is a well-developed community in the northeast quadrant of Sherwood Park, along both Highway 21 and the Yellowhead. That being said, this area is surprisingly quiet for its location. Homes in this area are beautifully designed, and the sense of community among its residents is welcoming.
Stony Plain: Southcreek
If you prefer to live outside of the hustle and bustle of city life, the Stony Plain community of Southcreek may be your ideal home. Southcreek is located near the Stony Plain Golf Course, just off Veterans Blvd. This community is incredibly serene, offering peaceful solitude with easy access to Highway 16A if needed.
The Calypso floor plan is designed to maximize functionality within 1911 square feet, and with more than a dozen community options, your choices are endless with this front attached garage home.