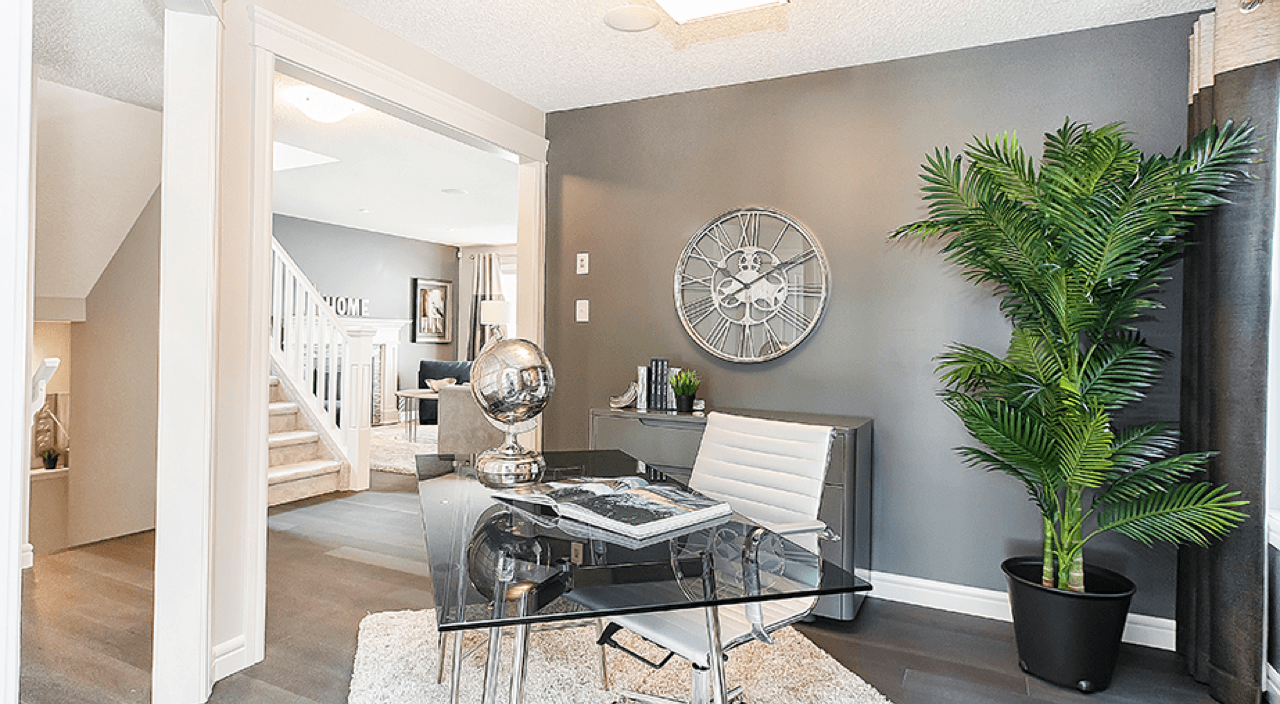 Looking for a creative way to set up that spare bedroom, den, or lifestyle room? 
We've put together a list of tips that will help you create the ultimate home office! 
Balance Form with Function
It's called a home office, so we can assume you'll be working from there. Although you'll want to make sure you have all the necessary office supplies and gadgets close at hand, it never hurts to "pretty-up" the space. In fact, you're much more likely to want to spend time there if the space looks nice! 
Be sure to plan ahead when selecting furniture. Doing so will ensure you have everything you need, without over-cluttering the space. There are plenty of software options available that can you help you do just that. Ikea, for example, has some 

easy-to-use Home Planning Tools

.

Ergonomics should be a high priority when selecting seating. Make sure your furniture promotes proper posture, and that you're comfortable sitting there for extended periods of time.

Choose pieces with plenty of storage space. Open shelving can help you show off the items you want to see (trophies, awards, photos), while drawers and cabinet doors can tuck away the less attractive items. 
Be Colour Conscious
Did you know that the colour of your home office can have a significant impact on your mind? Colour is capable of impacting both your mood as well as your energy levels. You'll want to keep this in mind when choosing paint colours. This article from Elle Décor can you assist you in selecting the perfect colour based on what you'd like to achieve.
Don't forget, lighting is key! Introduce as much natural light into your home office as possible. Take it a step further and bring in some plants as well. 
Create "Zones"
If you've got the space, try to section off the room to allow for separate zones such as sitting spaces, reading spaces, and desk spaces. This will help you stay focused on the task at hand and will give you plenty of variety in your day.
Minimize Distractions
We'd all like to believe we can be productive despite the giant flat screen TV in the corner. Be honest with yourself and take the Playstation out of there! If you need a quick break, try to leave the room for a few minutes and come back in when you're refreshed and ready to get back to work. 
Go Wireless
Yes, you'll need a computer (two screens), an internet connection, a printer, phone…the list goes on. Did you know that many of these items can function completely independent of those unsightly wires? Take a look at this Lifehacker guide on How to Go Completely Wireless in Your Home.
Make it YOU
Don't be afraid to show off your personality! You'll be spending a good chunk of time in here- be sure to introduce at least a few knick-knacks and such that make you happy. 
We all experience those days where we simply don't feel like working, but designing a home office that's functional, comfortable, and attractive to you can help. Add some special items, like a Himalayan salt lamp you love, and your very own office space can be a place you actually look forward to spending time in.