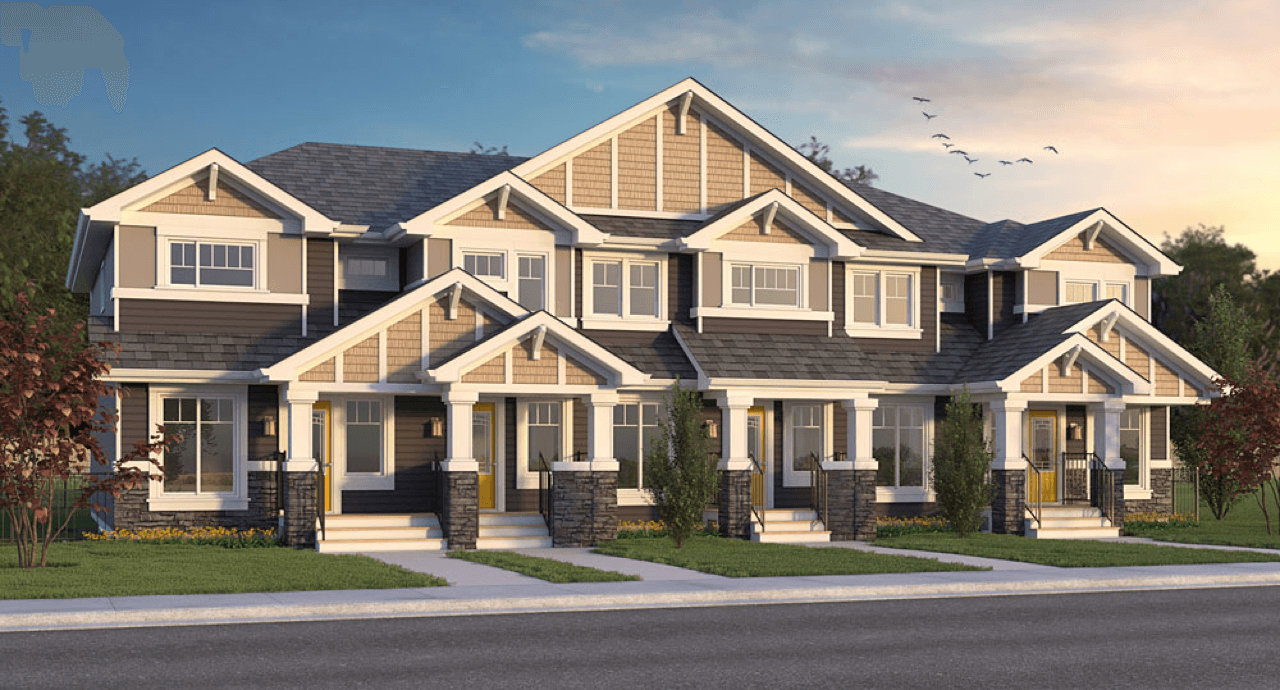 Choosing a home model can depend on so many factors, but a top consideration should always be: what type of lifestyle do I want to have?
Are you someone who has a busy lifestyle? Then you might appreciate low-maintenance living and great amenities right in your community. Maybe you've thought about the conveniences condo living has to offer, but it's just not quite enough space, or you'd prefer to buy and not rent.
If this sounds like you, we have a terrific option for you! Townhome living strikes the perfect balance. And, you may be pleasantly surprised with some of the impressive townhome floor plans that are designed to be especially functional. Check out our awesome new townhome models, and you'll see exactly what we mean.
Hello, Bristol & Calder
Walking onto gorgeous verandas, you'll find yourself on the doorstep of either the Bristol or the Calder model townhome. Each of these models come with complete landscaping and a rear detached garage. The interior layouts are vastly different from one another, and which one appeals to you will depend on your unique needs.
The Bristol
First Floor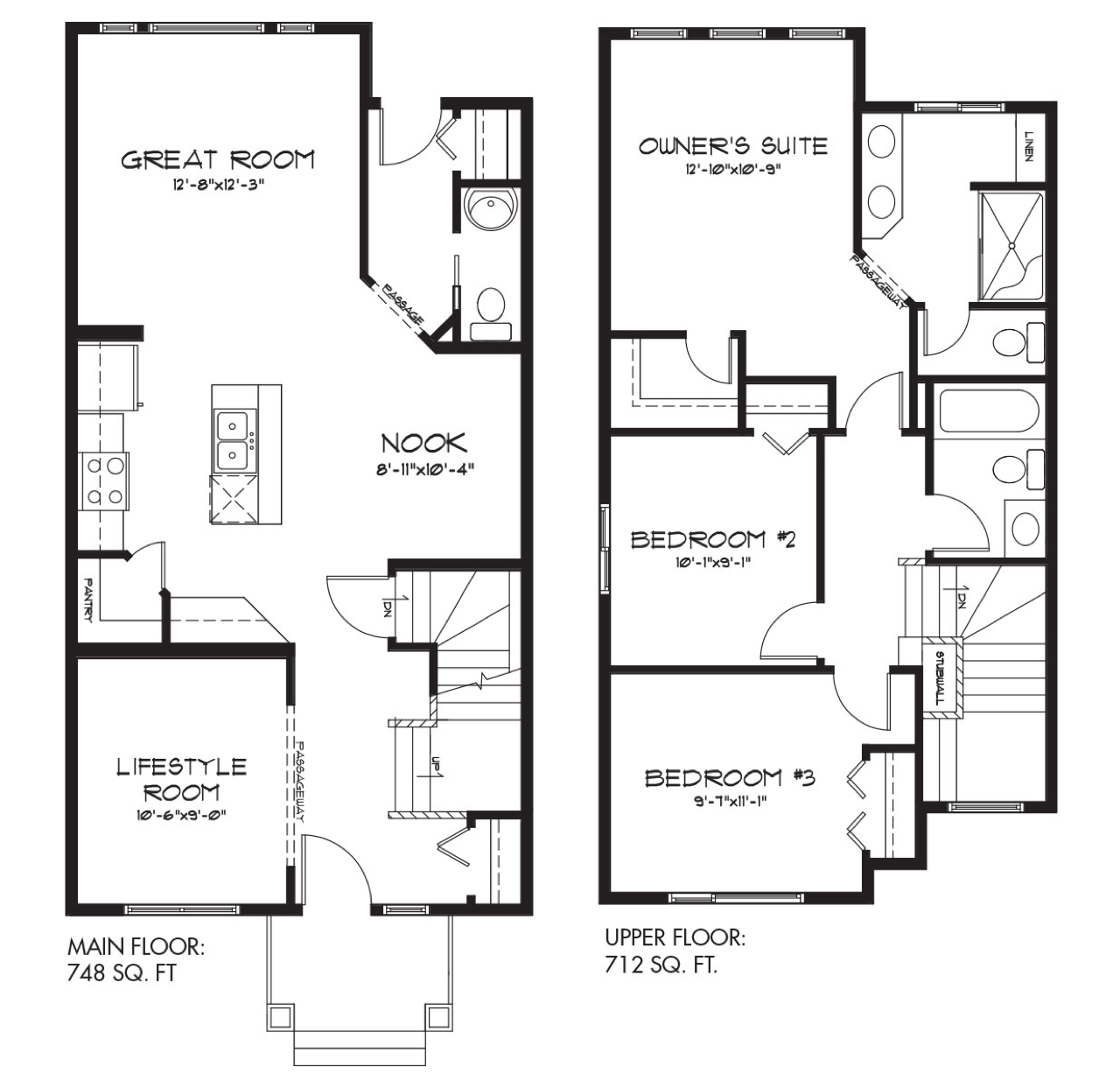 The Bristol is a 1,460 square foot home that captivates your interest from the moment you step in, with some remarkable features. Just to the side of the entryway, you can step through a passageway into a lifestyle room. We call it a lifestyle room because it can be tailored to your special interests; whether you turn it into a reading den, an art studio, or a home office, you'll appreciate the natural light that floods this front-facing room.
Continuing down the hall, the main floor opens up to give you a spacious kitchen, great room, and dining nook combo. The kitchen features a walk-in pantry and a centre island for added convenience. Angled between the nook and great room is a passage into a mudroom, uniquely designed with a storage closet, a powder room, and a door leading into the backyard.
Second Floor
Whether you're looking for a home for yourself or your growing family, there is no shortage of space in this townhome. The second floor offers two bedrooms with sizeable closets, the main bathroom, and an owner's suite.
The owner's suite is generously sized, with a walk-in closet and another angled passageway that leads into a grand ensuite bath. The ensuite bath includes a double vanity, ideal for couples; a large stand-up shower, a water closet, and linen storage. This ensuite is a testament to the whole model, clearly designed with convenience in mind.
The Calder
First Floor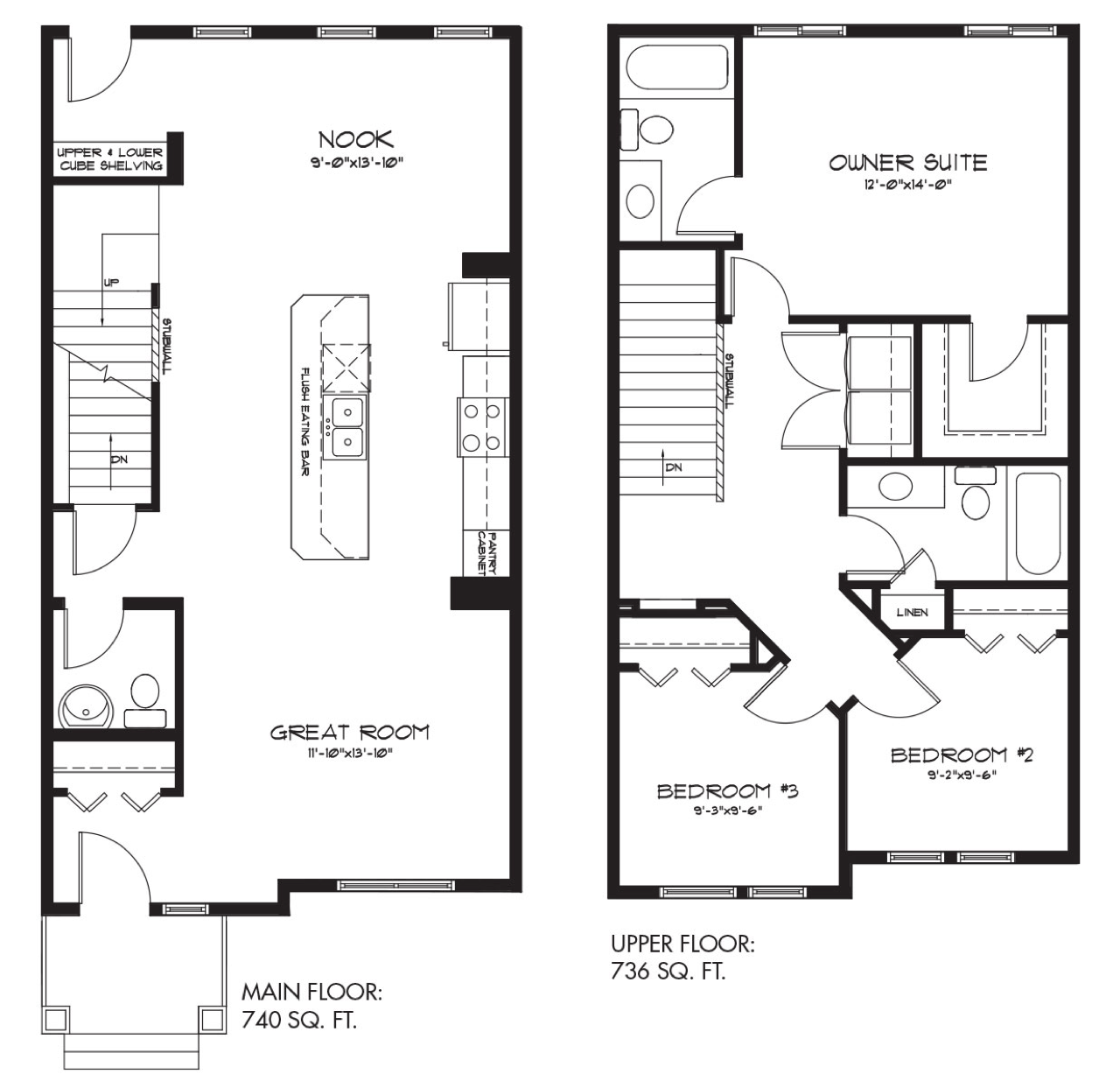 If you're a fan of open, airy spaces, you'll likely swoon over the 1,476 square foot Calder townhome model. Walking into the Calder, you'll notice a storage closet in the entryway, with a powder room tucked behind it. Other than that, the main floor is a completely open-concept layout. From the entrance, you step straight into the great room, which leads into the kitchen, followed by the dining area.
This flow is broken up only by a large central island with a flush eating bar. Branching off the dining nook, there's upper and lower cube shelving in place around a corner and in front of the back door, creating a rear entryway. This extra storage area adds convenience to an otherwise open space.
This main floor layout really caters to busy individuals or families, with great functionality; all your daily activities can take place in one space that fosters a feeling of connection.
Second Floor
The feeling of openness carries to the second floor, as you walk up the stairs framed by a stubwall. The upper floor is packed with features to meet all your needs in a well spread-out layout. At one end, you'll find two bedrooms with ample closet space. In the middle, the main bathroom featuring a linen closet and upper floor laundry add some serious functionality.
This separates the additional bedrooms from the roomy owner's suite, amplifying its private retreat qualities. With features such as a huge walk-in closet and an ensuite bath with a soaker tub, it's easy to see how this could be your sanctuary.
If you're ready to find a charming home with a functional layout that can allow you to maintain your upbeat lifestyle, either of these townhome models could be the perfect fit. And since both models include rough-in plumbing for future basement development, these homes can grow with you!
If this sounds like all you've ever needed, contact us today to learn more about your options for the Bristol or the Calder.