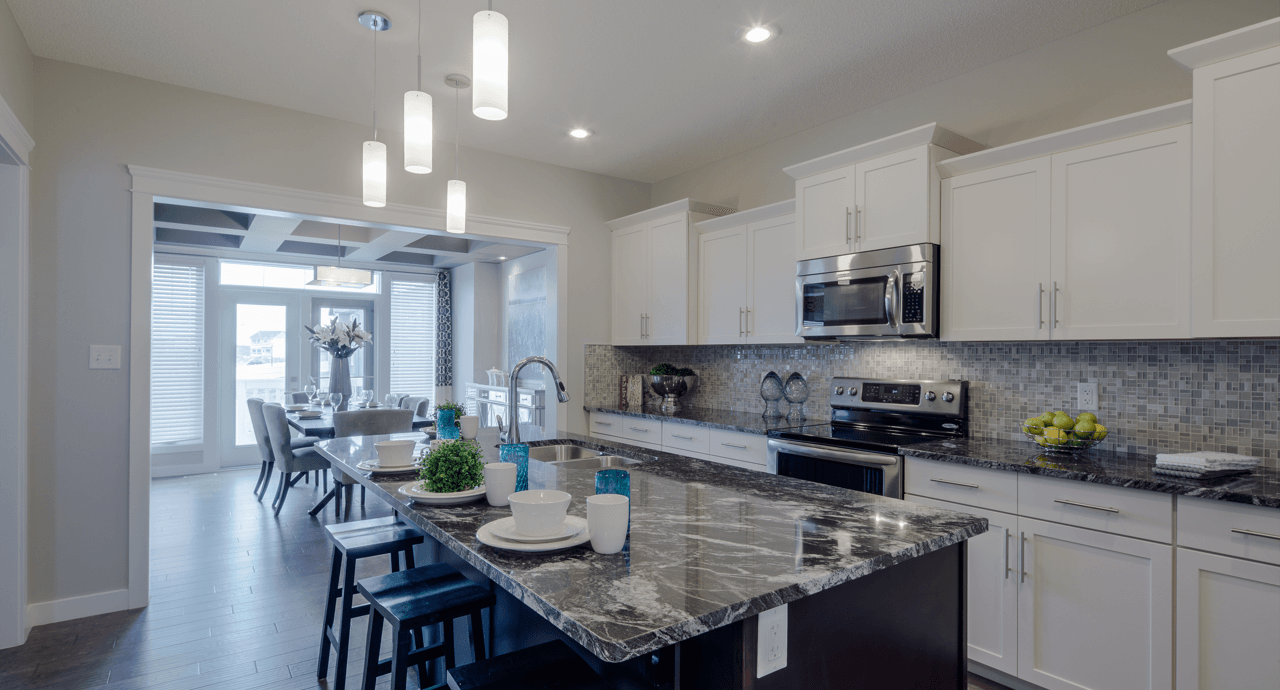 One of the best parts about building a new home is the array of choices that come with picking your features and finishes. In addition to choosing a stellar location, home model, and floor plan, you have the ultimate say in flooring, tile, cabinets, and much more! Of course, who wouldn't prefer soaring ceilings and quartz countertops? You'd do it all if you could, but as the savvy home buyer you are, you know you have to select your upgrades carefully to boost your return on investment and avoid overspending.
We have compiled a list of awesome upgrades that are guaranteed to last and add long-term value to your home. Take a peek at the suggestions below to help you choose which first-rate upgrades are worth your hard earned cash. 
Flooring
Both laminate and hardwood make great choices – but for different reasons. If you prefer a more traditional, tried and tested type of flooring, hardwood may be the choice for you. Known for its long shelf life, this type of flooring tends to improve in appearance over time and add value to your home due to its natural appeal.
On the other hand, laminate is a great choice for busy families with children and pets.  Resistant to scratches and everyday wear and tear, laminate looks good, is easy to clean and is cost-effective to install. It may not have quite the same charm as hardwood, but it's certainly a friendly alternative if you're looking for low-maintenance, affordable flooring.
Looking for more ideas? Click here for more fun flooring ideas as suggested by the experts!
Cabinets
Cabinets play a major role when it comes to creating your dream kitchen. For this reason, we suggest extending them or staggering them to add optimum value and aesthetic appeal. Extended cabinets are built up to the ceiling, meaning less dusting and maintenance, and preferable for those who prefer a uniform design.
Staggered cabinets, on the other hand, add a lot of visual interest to a room and create a more dynamic looking space. Although they will require a little dusting here and there, their aesthetic appeal is a huge bonus for resale value.
Counter Tops
When upgrading counter tops, home buyers often find themselves stuck between a choice of quartz or granite. The truth is, both have their merits.
Quartz countertops are man-made and tend to be more controlled in terms of colour and design. This is a bonus if you're looking for just the right colour counter top to match the colour scheme of your new home. Quartz is also stain-resistant, making clean up a breeze.
Conversely, granite poses a lovely addition to your home if you prefer to add a little more character. The various minerals that comprise granite give the stone natural patterns and colours – meaning no two countertops are alike. Granite requires a little more maintenance however as, unlike quartz, these countertops need to be sealed and re-sealed every few years to help them withstand damage.
Bathroom Tiles
Have you considered a tile surround for your bathtubs and showers? A tile surround not only adds elegance and visual appeal to a room, it also serves as extra protection for the surrounding walls. Not only will boost you home's value, you're sure to avoid any water-related issues down the road!
Extra Electrical Outlets
In today's modern world, a surplus of electrical outlets is darn near a necessity. When building your home, consider where you will be spending the most time with electronics or where you may want to incorporate extra lighting. For example, the master bedroom and ensuite should be equipped with outlets on either side of the bed (in addition to others around the room) and an outlet on either side of "his and hers" sinks.
Other places to consider may be the kitchen in order to create a charging station, pantry, garage, deck and around the home's exterior (especially helpful if you love Christmas lights!).
Gas and Water Lines
Be sure to tell your builder you'd like to have additional gas and water lines installed prior to the build. Not only will this diversify your home in terms of appliances you can use (great for resale value!) but also saves you major headaches down the road should you purchase a new gas stove or high-end fridge that requires a water-line.
Elevated Ceilings
9-foot ceilings are definitely recommended for both for the main floor of your home and the basement. Automatically providing more wall space, they give you the freedom to add more lighting and decor. The elegant and spacious feel that naturally comes with elevated ceilings is also of huge appeal to prospective home buyers meaning, you guessed it, increased resale value.
Garage Space
When considering design options for your garage, try to factor in an added foot or two of space to the overall floor plan. Not only will this go a long way in terms of storage, but it will also provide you with the much-needed room to tackle future projects.
In addition to extra space, an attached garage can also benefit from additional windows for extra light. This will be of huge benefit on days when you may not want to open the garage door and for extra light when you are trudging things in from your vehicle.
When it comes to a new home build, these tips are just a sampling of how you can get the biggest bang for your buck. Pacesetter's award-winning design Q centre offers a variety of choices in terms of features and finishes that are sure to appeal to your unique sense of style. Schedule a one-on-one consultation with one of our qualified interior designers or stop by a showhome to see how we can help you build the home of your dreams.