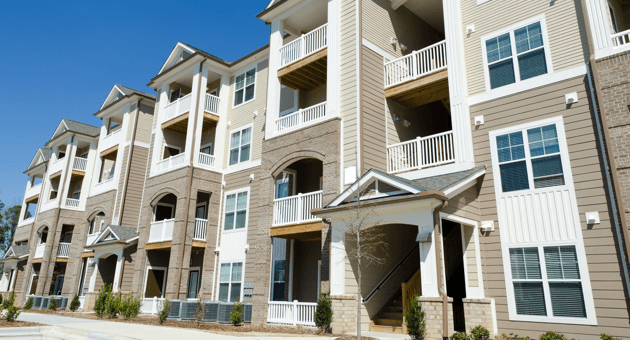 First-time home buyers and downsizers often find themselves faced with the tough decision of whether to look at an apartment style condominium or a townhouse. We will explain the differences between them to help you decide which is more suited to you.
Condominium: Although most commonly seen in an apartment style, the term condominium actually refers not to the architectural style of the building but to the ownership style. Condominiums are buildings in which units are individually owned but that also share joint ownership of common areas (for example, hallways, fitness facilities, pools, etc.)
Townhouses:
Townhouses refer to individually owned houses and lots that are built side by side with one or two shared walls between adjacent houses. 
It's important to know what you want in a home before beginning to look. Do you prefer a maintenance-free lifestyle? Perhaps you have the desire to own a piece of land. These will be significant factors in determining which property is the right fit for you.  
| | | |
| --- | --- | --- |
| | Condo | Townhouse |
| What Do You Own? | In a condo, you own the actual unit itself as well as a parking space (if you purchased one). You will also function alongside a Homeowners Association (HOA) that has joint ownership over all common areas including the exterior of the building. You do not own the land your unit sits on.  | In a townhouse, not only do you own the unit itself, but you also own the land that the unit sits on including the yard and the garage. |
| Do You Pay Property Taxes? | Yes, despite not owning land. | Yes. |
| Do You Pay Condo Fees? | Yes, monthly condo fees are paid to the Homeowners Association to be used towards the cleaning and maintenance of common areas, the reserve fund (used for repairs and upgrades), and in some cases, utility costs. These fees will also be put towards amenities within the building such as pools, gyms etc. (a potential negative if you do not plan to use these facilities). | No! – not in Pacesetter Homes' townhouses.  |
| Who Does the Maintenance? | Condo fees will go towards hiring a professional company to maintain the property. This includes landscaping, snow removal, and cleaning of the common areas. | The homeowner is responsible for all interior and exterior maintenance of the house. Although potentially costly in big repair situations, this gives homeowners more control over their maintenance costs on a monthly basis. |
| Are There Rules/Regulations? | Condos are governed by a board that agrees upon the rules for each development. Typical rules for condos often include thing such as common area hours of use, pet restrictions, and decoration restrictions (including what items are permitted on the balcony) | Although some neighbourhood requirements may restrict changing the front landscaping of a townhouse, other rules do not apply. Homeowners are given the freedom to alter the property to suit their individual needs. |
A few more things to consider: 
You may be approved for a larger mortgage in a townhome than you would in a condo. This is due to condo fees being factored into your "debt to income" ratio during the approval process.

 

Townhouses tend to appreciate more quickly than condos, providing the opportunity for

 

larger resale values in a shorter amount of time.

 

Although both properties find homeowners in close proximity to each other, condos have a larger area of shared walls as well as common hallways which result in a higher likelihood of noise transfer and the travel of odours.

 
A typical floor plan in a condominium would showcase all living spaces on one level while townhouses generally offer separation between the shared spaces from the bedrooms through the use of multiple levels.

 
Both property styles offer many different options. It's up to you to decide – condo versus townhouse – which one best suits your lifestyle.