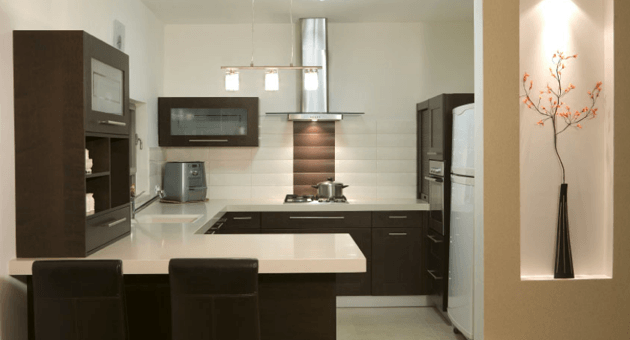 We're back with a brand new instalment in our "Ask an Expert" series. For this month, we spoke with Elaine at Modern Granite & Marble about the different options a person has when it comes to design with these kinds of products. It's not just for the kitchen anymore!
What types of products do you offer?
At Modern Granite & Marble, we offer various types of granite, marble, quartzite, and engineered quartz. These can be used in applications such as kitchen and vanity countertops, fireplace surrounds, shower panels, and backsplashes.
What makes your service unique?
With our industry-leading CNC technology and digital templating equipment, we have the ability to create unique designs and custom fit pieces to any space. Our production facility houses five large CNC machines, including 2 of the largest water-jet CNC in the industry. We work with direct-from-quarry suppliers from around the world, allowing us to acquire rare and unique stones. With over 30 years of experience and our network of family-owned companies, we have developed solid relationships with our suppliers and contractors to ensure we always have the ability to keep up with the latest trends in production and design. 
I understand you have a large design center, can you tell us about it?
We have a 43,000 square foot showroom and production facility in our West Edmonton location along with a new 10,000 square foot showroom in south Edmonton.  In these locations, we showcase modern, contemporary and traditional kitchens as well as unique stones we have sourced from around the world.  Both these locations offer a true "one stop shop" experience, enabling the client to select and purchase cabinets, countertops, and appliances from our network of companies operated under one ownership.
What is the difference between granite, quartz, and marble countertops? And what sort of care do they require (should they be treated, and how often)?
Granite, marble, and quartzite are natural stones, therefore, they have unique variations from slab to slab. Engineered quartz, being man-made, have a relatively uniform appearance and are generally more durable. To care for any stone countertop:
Use a mild soap or detergent diluted with warm water.

Use coasters, trivets, hot pads, and cutting boards.

Clean any spills immediately.
Natural stone is porous by nature, and will need to be sealed every 6 months to two years depending on colour and usage. Engineered quartz does not require re-sealing, based on the manufacturer's disclosure.
Is there any style that is trending now; are there any that are no longer popular?
While green or red stones were quite popular a few years ago, many clients are now opting for white or grey tones in favour of a more contemporary look. Brown and golden yellow colours have remained steady options throughout the years, providing a traditional neutral option. Many homes are also trending towards full shower surrounds along with seamless shower bases for a luxurious look, and full-height kitchen backsplashes for added convenience and elegance.
There are so many options when it comes to your home. View hundreds of styles and products on Modern Granite & Marble's interactive website at moderngranite.com.