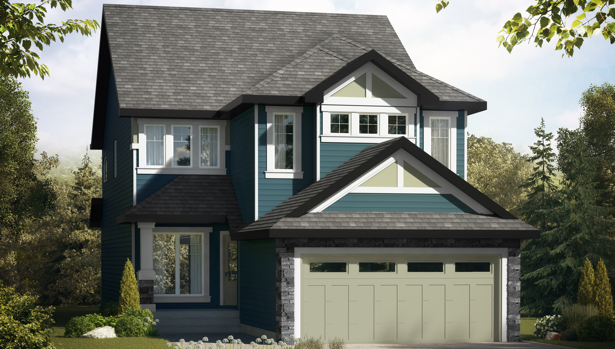 Here it is, our next instalment on Pacesetter elevations! We talked about five different types of elevations previously, and these are our remaining five elevation types. Ready? Let's get started.
Seaside 
Close your eyes and imagine the sea, the breeze, the smell, and the sound of the ocean. This elevation can take you there. We've taken those beach-front style homes from your dreams, and made it possible for you to come home to one every day. Here in this city. High peaks, straight lines, and interesting shapes are the bones of this elevation style. It is common to see three windows in the bonus room box outs. These windows will be stacked, straight across, or even curved. Everything behind the box out is carefully balanced beside it. Stone on the bottom half of the home combined with garage door stockton panels, create both strength and add the light-airiness that Seaside elevations must have. Covered front walk-ways and intricately detailed front doors beckon you and your family to come home.
Homestead
Were you always dreaming of that white picket fence? This elevation type is the perfect home to place within that fence. Strength, character, and charm are all features that these elevations exude. Right away you will notice triple peaked gables filled with shakes or board and batten. Shorter rooflines leave more room to play with window shapes, and placements. Thin, even battens wrap each window allowing the windows themselves to be a primary focus. Triangular or square shapes, stone covered garages, and stone wrapped posts strengthen and ground this picture-perfect elevation type.
Modern Heritage 
Modern Heritage elevations are like our heritage elevations, but with an even more modern twist. Like our Craftsman elevation style, this elevation evokes memories of a classic, simpler lifestyle. It is common to see the gables, stacked, or even layered. Windows are not identical in shapes or sizes, and are more randomly placed along the roof line, emanating a less cookie-cutter feel.
Detailed gables add architectural interest, but still keep the style simple by using mostly crezone paneling or clean lined battens. Gentle details on the garage doors continue the modest design from top to bottom. The key thing for modern heritage? Less is more with this elevation style.
National Railroad 
These elevations are meant to take you back in time. Do you relate to an earlier era? Perhaps you have family history tied into our Canadian railway. These elevation designs are the perfect way to bring some Canadian history into your everyday life. You can spot these elevations out by recognizing the tall evenly spaced windows. These windows will always be framed by thick top and bottom battens. You will likely see cross-style shutters and shorter roof lines. Entrance ways will at all times have a bracket attached to the front post leading you into to the doorway. Triangular louvers positioned centrally in gable peaks, help balance the strong window designs. Straight, uniform, and resilient are the motto's for this elevation style.
Neo-Traditional 
Just as the name implies, these elevations give older home designs a fresh start in the present. The roofs of these homes are either hip style, or stacked ascendingly by size. Gable details are important for this elevation type, board and batten, louvers, and thick shadow battens add classic design to the elevation. Interesting window shapes and placements are emphasized with the use of shutters and simple battens.
Natural stone will blanket the bottom half of these homes. Modern garage and front door styles are decorated with glass inserts, creating the perfect balance of contemporary and traditional. A great option for those wanting for a more classic look.
We hope that this has helped you understand our home elevation designs, and helped you choose one that speaks to you. For more information contact one of our Area Managers.