Navigating your way through new terrain is always made easier when you have a map. The map helps make sense of your surroundings in a way that verbal explanations can't. In the same way, understanding the layout of a home is enhanced by seeing the blueprint. The blueprint provides a comprehensive description of your home so you know where everything is, what to expect, and what features can be added in the future. But what happens when you don't understand all the strange symbols and lines on a blueprint? Before you call your architect friend to assist you, let us help you make sense of it all! We've created a handy guide that helps clarify what to know when it comes time to review your new home plans.
Electrical and Flooring
1. Ceiling Light
This symbol represents a light source that is connected directly from the ceiling. It can be pot lights, eye ball lights, flush mount or chandeliers.
2. Flooring Cut Line
To help see where the flooring of a particular room changes, the flooring cut lines illustrates this with this symbol. For instance, in this example, you can tell that there's hardwood in the kitchen and nook area, but that it changes in the great room. If you want to inquire about what type of flooring is in each room, look for a line that separates from each other or a line at the beginning of a new room.
3. Vacuum Rough-in
Wondering where you can install a central vacuum in your new home? This symbol lets you know!
4. Electrical Plug
Imagine the nightmare of discovering that the only wall to hang your flat screen TV is the one where you had planned to have your bed head board on! To help prevent any of these type of disasters, search for these symbols throughout the blue print so you can confirm the electrical plugs are where you want them to be.
5. Electrical Wiring 
The broken line shown underneath the number five represents the ceiling light's electrical wiring. The lines can be straight or curved. When a group of lighting is connected together through the electrical wiring as shown in the kitchen pot lights, it illustrates that when the light is switched on, all of them will turn on together.
Doors and Wall Fixtures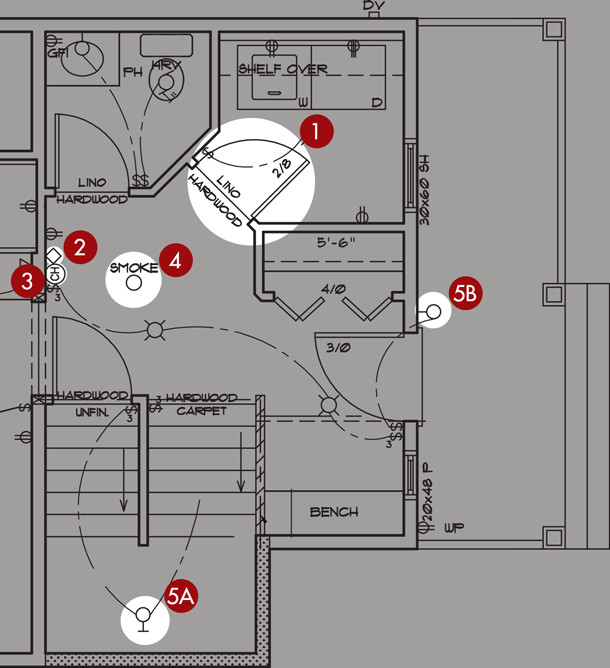 1. Door Swing
Don't know which direction the door will swing when you open it? Don't worry. This symbol tells you precisely which way the door will swing and the locations of where they are in the home.
2. Thermostat 
Is the room too hot or too cold? Knowing this symbol will help you find the thermostat a lot quicker!
3. Chime 
It's nice to know where not to stand when your guests ring your doorbell when they're coming over.
4. Smoke Detector 
You can have peace of mind knowing precisely where the smoke detectors are installed throughout the home by finding this symbol.
5A and 5B.  Wall Lighting
These symbols help you locate where lights that connect to directly to the wall are. These lights could be wall sconces or an outdoor porch light.
Windows, Switches and Jacks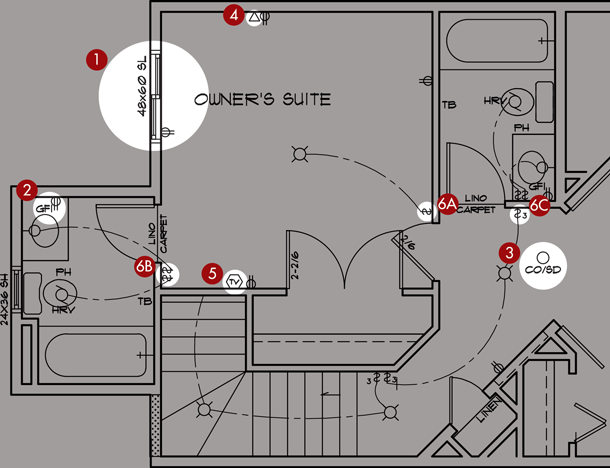 1. Window 
Knowing where a window is, what type of window it is, and the dimensions of the window are important. That's why this symbol helps you understand the following: SL means it's a slider window that can be slid open. P is a picture window that can't be opened. SH is a single-hung window that indicates there's only one window. C is a casement window that's on hinges and can be opened by a lever.
2. GFI Outlet
A ground fault circuit is also known as a GFI outlet. This symbol lets you know where they are in the home.Typically, these types of outlets are installed in a bathroom or anywhere that water is present.
3. Carbon Monoxide Detector
Want to know where the carbon monoxide detector is located in your home? Find this symbol to find out.
4. Telephone Jack 
This symbol shows where any telephone jacks are installed.
5. TV (CAT5) 
Looking to find where you can place your television? Search for this symbol in your blueprint.
6A, 6B and 6C. Light Switch 
Here's a simple breakdown of what each of these mean in the world of light switches:
6A: A single switch that controls one light.
6B: A double switch that controls two lights.
6C: Three-way switches have the number 3 near the symbol indicating that they control three lights.
There you go – now your blueprints won't be so confusing. When you do your blueprint review, you'll be reading them like a pro!
{{cta('88d1ea03-b817-4bc8-80aa-f7bb46fb43ec','justifycenter')}}