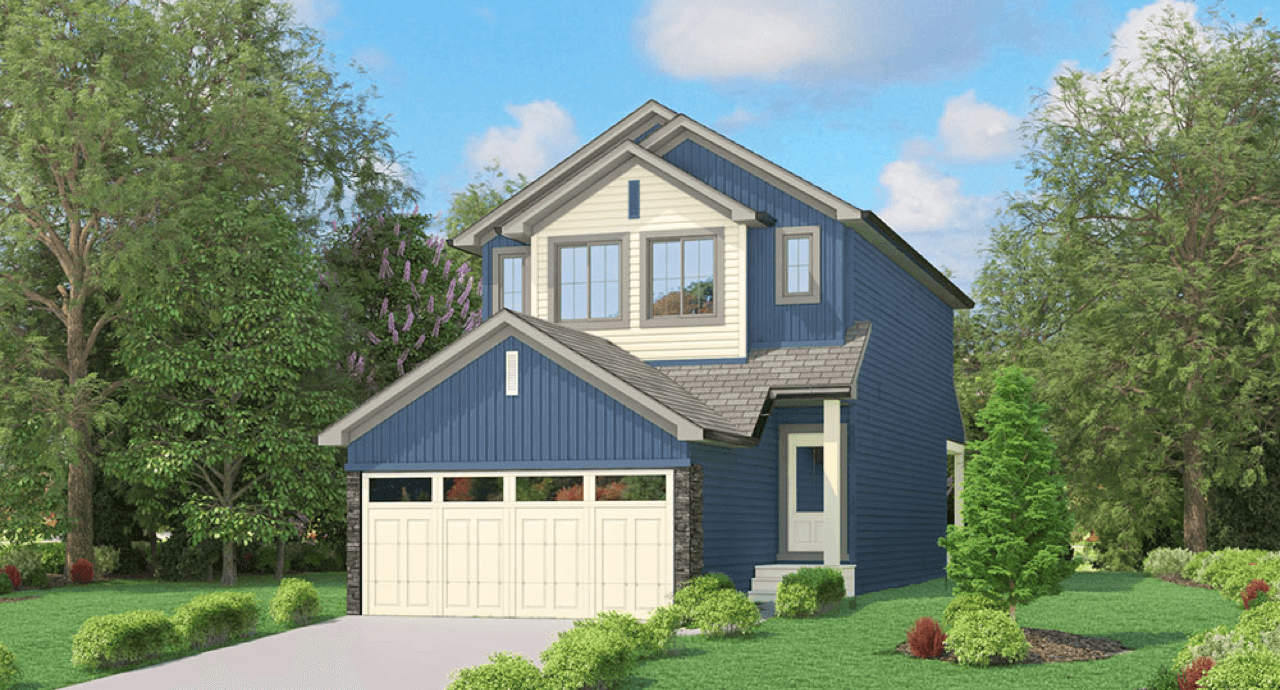 You pull your car in the front-attached garage and enter your glistening new home. You pause to appreciate the convenience of a powder room just around the corner, and the laundry room next to it. 
As you look up to admire the open concept living area ahead of you, you note how happy you are that you made the wise choice of building a Sampson home.
Coming home to a house you continue to love throughout the passing of time is something everyone hopes for. This could easily be your life if you choose the Sampson floor plan for your next home.
The Sampson is a single-family home, with a front-attached garage, three bedrooms, and two and a half bathrooms. You'll be pleasantly surprised by how much this home has to offer in 1,610 square feet.
So what else makes this floor plan so desirable? Let's find out!
A Functional First Floor
As mentioned, the first-floor laundry room is ideally located near the entrance of this home. Throw in a load on your way out the door on a busy day; worry not when your kids come home from the park covered in mud – simply toss the clothes in the washer before the mess can meet the rest of your home. 
Further down the hallway, one expansive area provides you with your kitchen, great room, and dining nook. The kitchen showcases a useful, large corner pantry and a centre island including a flush eating bar and inset dishwasher. 
The great room and dining nook areas each boast wide windows overlooking the backyard, allowing for a flood of beautiful natural lighting.  
A Second Floor Sanctuary 
As you take the final step onto the second level, you'll find yourself in a spacious loft area. This additional space can be furnished in a way that suits your unique personality. 
Perhaps you'd adore having cozy seating around a fully-stocked bookcase. Maybe you'd turn it into a secondary living room where you can comfortably curl up to watch a movie when your teenagers take over the great room for video games. When it comes to designing the loft, you hold the controller.  
Two bedrooms sit side-by-side at one end of this floor, with easy access to the main bath and a full linen closet. The other end of this floor, however, is dedicated to the owner's suite. With a three-piece ensuite bath to one side and a walk-in closet to the other, this space is characterized by comfort and convenience. 
The vaulted ceiling is an absolutely elegant touch, elevating the level of sophistication to any bedroom design and décor. This suite is bright and airy, with big bedroom windows as well as smaller windows in both the ensuite and closet. 
Craving the chance to see this home in full glory? You're in luck! Our former Sampson showhome in the thriving Secord Heights community has been reduced in price!
Reach out to us at: concierge@yourpacesetter.com to schedule a private viewing or a live video tour today!