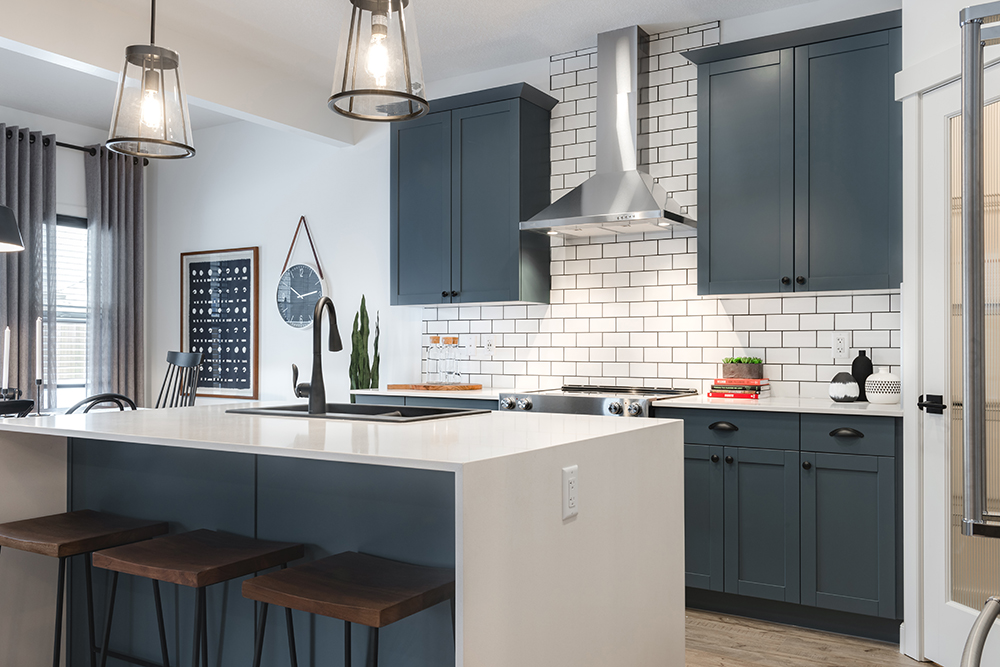 In your kitchen, all of the design components harmoniously work together to create a stunning display, including cabinets, countertops, and flooring. But there is one component that can mend them all together and finish the look with panache, and that is your backsplash. In today's kitchens there are so many unique styles of tile and layout design that the possibilities are virtually endless. And there may be backsplash ideas you haven't yet thought of. Let's look at a few ideas.
Marble
This glamourous and elegant stone is making a comeback in a big way. Not only is it spectacular as a countertop, but it is a newer trend to continue the stone up the wall as your backsplash as well. Some are choosing to use marble as the backsplash behind a range, and regular tile backsplash surrounding it. This provides extra contrast and more interest to the design.
Ornate Tin Sheets
This design is quite unique, and looks great in a home with a French flair to its design. Often used as ceiling finish, this ornately designed tin offers sophistication and elegance when used as a backsplash. It is best used in kitchens with white or off-white cabinetry and light-coloured countertops. It may be a bit more maintenance to keep clean, but it will pay off in design.
Bold Patterned Tile
A new trend is starting to take shape in the design of the tile itself. Many homeowners are starting to use more bold patterns and colours in their backsplash tile to play a role in the overall design of the space. Instead of subtly matching the cabinets and countertops, these more distinct patterns are becoming the essence of the kitchen design, completing the overall look in a unique way.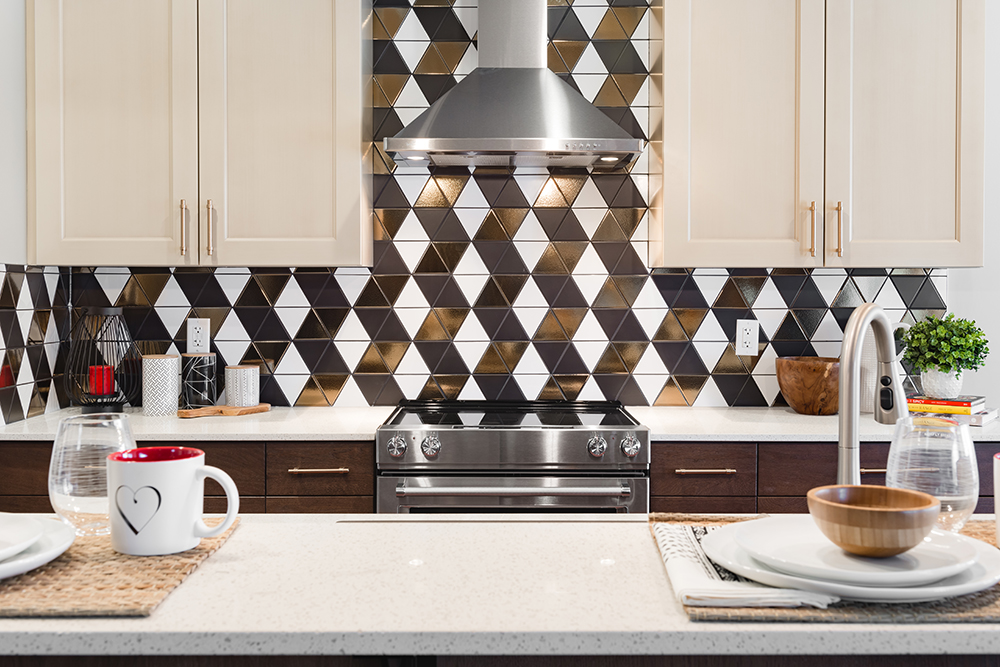 Structured Details
Like the bold patterned tile noted above, tile that creates a pattern by utilizing different tiles together is also becoming a common trend. Tiles each have a piece of a pattern, and when laid out in order create a complete effect that gives any wall more depth and interest.
Glass
Glass tile provides a very distinct look to your space. The tile itself is opaque with the colour displayed on the back, so you see through the tile to the colour in behind. You can choose glass tile that has a coloured tint, often a soft green, blue, or gray, although they do come in many other colours. Typically white or grey grout is used which enhances the overall unique look to this design.
This type of tile comes in subway rectangular, mosaic, and less commonly patterned designs. How you lay it out is your choice.
Subway Tile
This is probably the most popular look in kitchens today, and is very economical. Most commonly white or off-white, this type of tile comes in a plethora of colours and can be mixed with any colour of grout and still look fantastic. Most commonly laid out in a brick pattern—which costs a bit extra in labour—this tile can also be stacked if you prefer the cleaner, linear look.
Textured Tile
This style is relatively new, and becoming more popular. Instead of a repetitive pattern as most tile backsplashes are, this style reveals a very fluid, different pattern that produces a larger overall design. Because of the texture, it also creates a more three-dimensional effect which is sure to make everyone's heads turn.
Copper
Done right, copper tile can make your kitchen look very luxurious. The palette of pearl and metallic tones can bring out the deeper tones and highlights in your wood grain cabinets, or work in harmony with a stunning quartz countertop. Choose the right hardware, perhaps even another type of metal, to bring out the multi-layered tones in the tile.
Herringbone Pattern
A simple subway tile laid in a herringbone pattern brings an air of antique to your space, while still looking fresh for today's homes. Choose a lighter coloured tile and a dark grey or black grout to highlight the pattern, or a lighter grout if you want the pattern more subtle.
A pattern this bold deserves to be continued elsewhere in your home's design. Choose textiles with this pattern for pillows or throw blankets, or install your hardwood flooring with the same pattern. You'd be surprised that it does not overwhelm the space.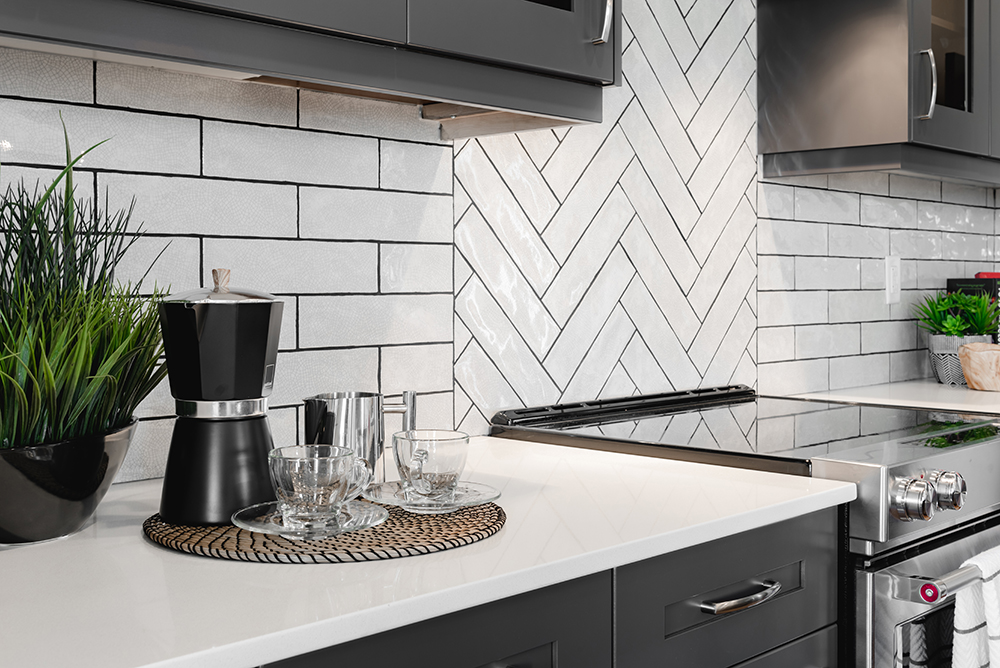 Moroccan
Choose a tile in any colour with a Moroccan shape or design for a more cultured, worldly look. This tile generally looks best with a lighter coloured grout. These tiles come in a vast variety of bright, vibrant colours, and works well with a low-grain wood cabinet and quartz or marble countertops.
Designing your kitchen is one of the most fun parts of building a new home. Be creative with your kitchen to take the rest of your space to the next level of luxurious design using one of these backsplash ideas.