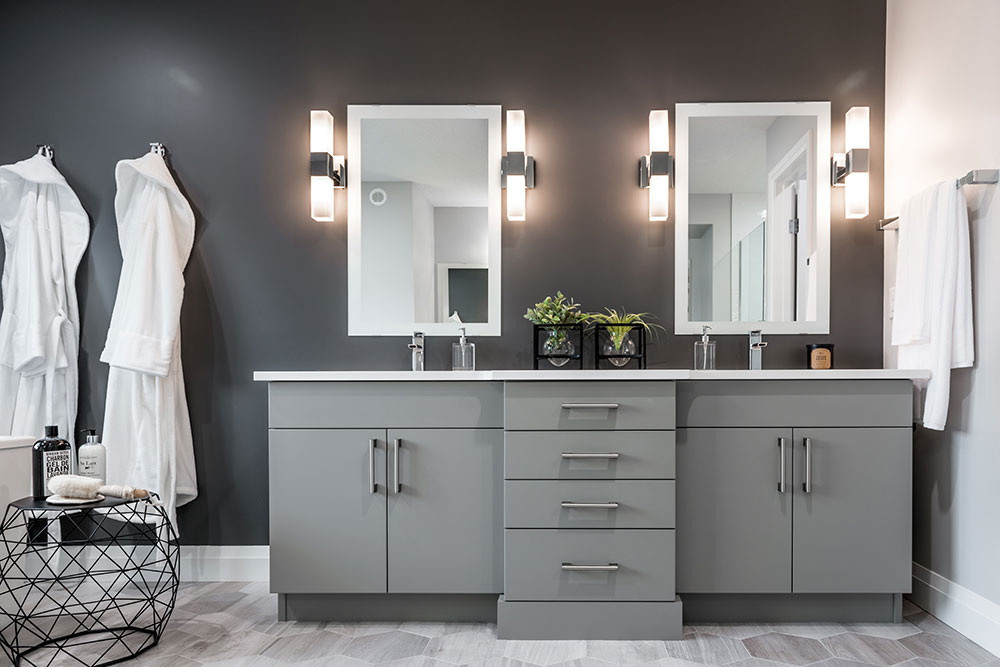 Getting tired of that plain old owner's suite? Looking for some inspiration during your bathroom remodel? Your ensuite is a space that is certainly functional, but it should also be beautiful. Gone are the days of cramped bathrooms with boring shower stalls – you're in need of an ensuite that suits your personality and is totally convenient. You need an evening retreat and a weekend spa, all in one. You need an ensuite with perfect interior design.
If you're looking for a bit of design inspiration, we've got the comparison for you: our ensuite showdown! We're going to put two show homes in a face-off to demonstrate just how different two identical new home models can be.
Comparing Interior Design Styles: Ensuite vs Ensuite
While the Vienna is one of our most popular homes, every single model can be customized and changed to fit the need of any homeowner. No matter what your taste for interior design, your floorplan should be an expression of your personality, especially when it comes to the owner's suite. For today's showdown, we'll show you just how different two of the same ensuites can be!
First up in today's comparison, the owner's suite in the Crimson Vienna…
The Crimson Vienna
From the moment you enter the Crimson Vienna, natural materials and timeless Japanese design principles become apparent in every aspect of the interior. The same is true in the owner's bathroom: a muted palette with stone-coloured tile in the bathroom, and pebbled stone flooring greets you as you enter your personal spa.
The ensuite features all the luxury amenities you could ask for, all with a unifying interior design. The coordinating gray colour throughout the entire space is complimented by white accents and brushed nickel highlights. The floating vanity features modern gray cabinetry, quartz countertops, and dual sink basins with dark nickel faucets. Here, your mornings are made easy and stylish. Across the beautiful stone flooring, a deep soaker tub and fully-tiled shower await, while a separate water closet makes the ensuite a functional and beautiful addition to this gorgeous home.
The Crimson Vienna is a unique reflection of nature and is just one example of how every room can become your own – whatever your personal design taste.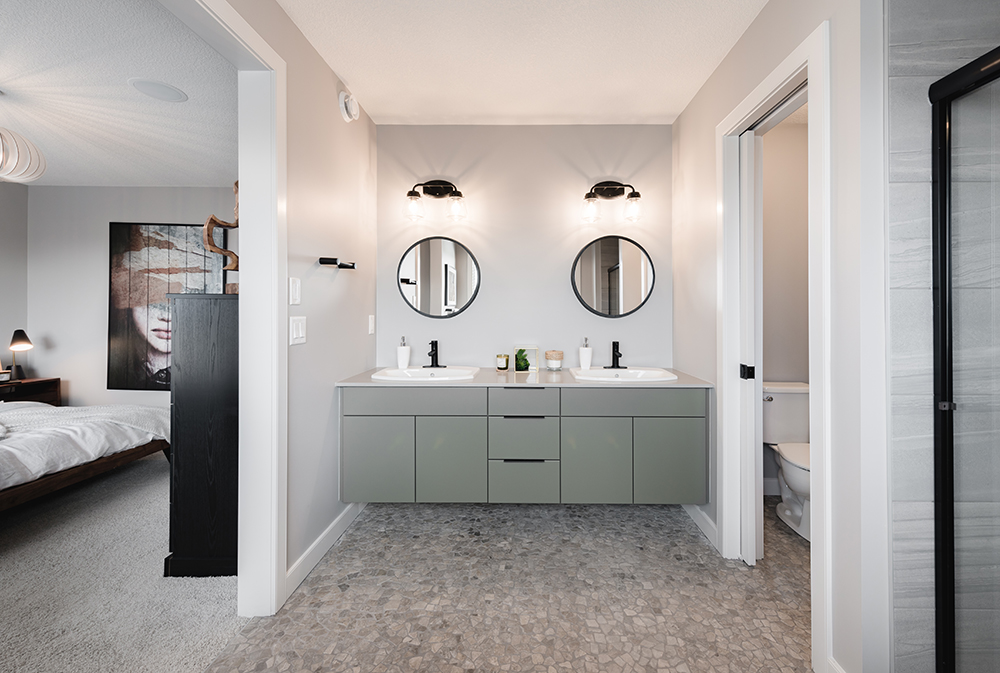 The Summerwood Vienna
The Summerwood Vienna contrasts its counterpart in many ways, but the beautiful interior design is just as satisfying. Oversized white tile flooring stretches across the owner's bathroom. The deep soaker tub is set against a dark feature wall and a wide window that floods the bathroom with natural light – the perfect evening retreat.
The vanity is unique and beautiful. The warm wooden cabinetry is topped by black quartz counters, two sink basins with classic dark faucets, and accent tile that mirrors the floor below. Two unique lighting fixtures and vanity mirrors complete the timeless look and create a cozy atmosphere that is perfect for any time of day.
While the floorplan is identical to the crimson Vienna, the warm accents found in Summerwood Vienna's ensuite culminate in a space that is unique, inviting, and elegant.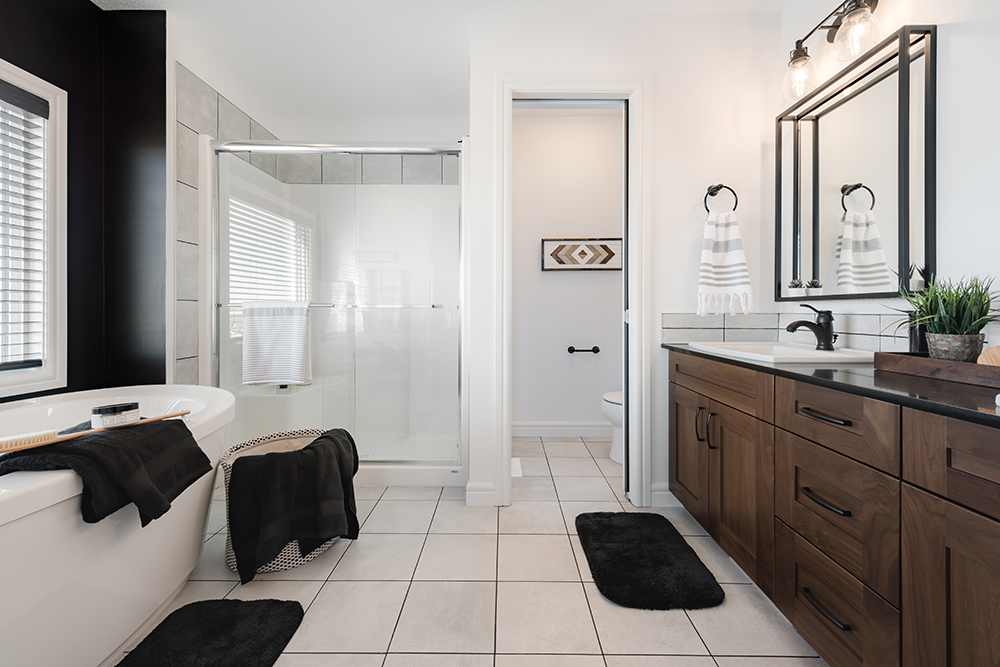 No matter what your interior design taste, there's a home model and floorplan that can be customized to meet your needs. Whether you prefer the owner's bathroom in the Crimson or Summerwood Vienna, it just goes to show that there are hundreds of options for you to choose from when it comes to designing your new home.