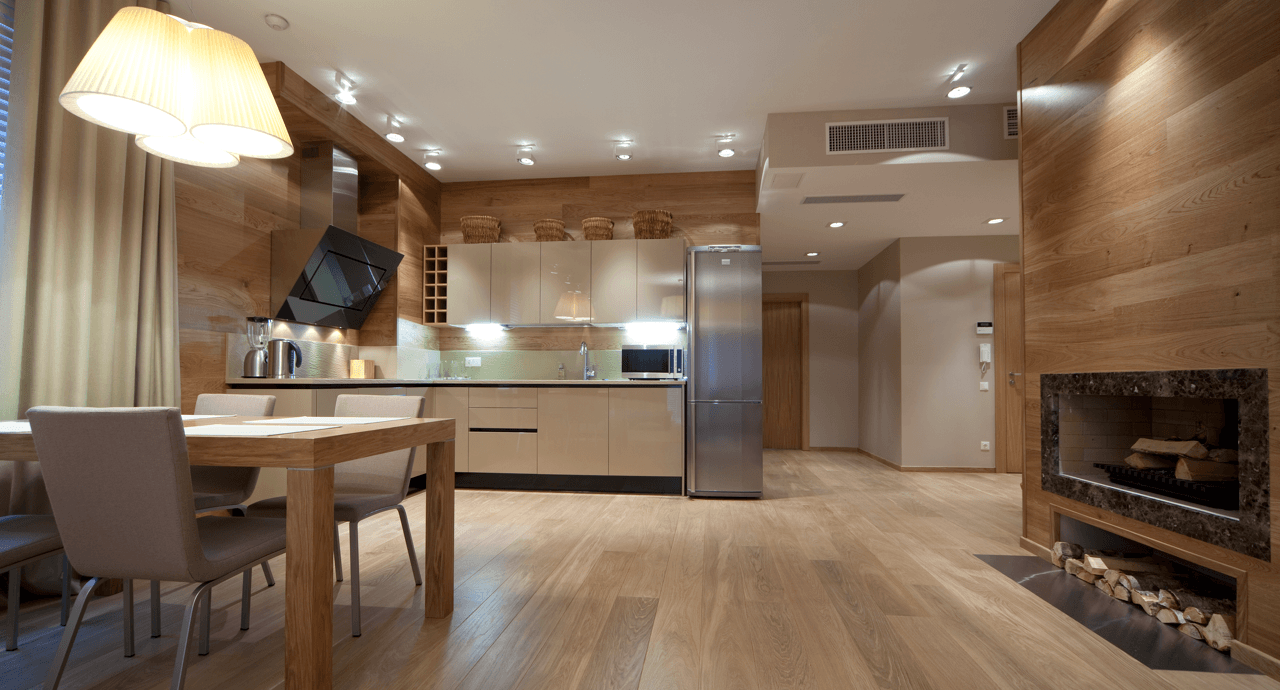 As someone who is interested in improving and/or updating the appearance of your home, you might find the suggestion of using feature wall décor options to be appealing and practical. Previously, we've talked about the tricks you can try with wallpaper and panelling. Today we'd like to share with some ideas you might not have thought of: wood materials, both new and reclaimed.
Keep reading, we promise you're going to find something you'll like 😉
Reclaimed Fencing
When you think of a wood feature wall, what comes to mind? Is it something along the lines of panelling, or maybe wainscotting? What about fencing?
Yep, we said fencing.
Beautifully aged wood fencing can be planed down and smoothed out, and then applied to create a unique and lovely feature wall. You can cut the boards as well to arrange them in a distinctive pattern like herringbone. Our suggestion here would be to only apply a protective clear sealant to the boards (unless they're painted, then you want to sand them first!), to keep the unique wood colouring and create more visual texture on your wall.
Fabulous Flooring
Have you ever been in home depot, and while browsing, found some gorgeous hardwood or vinyl plank flooring? You fell in love with the colour of it and wondered how you could implement it into your home decor…
Feature wall!
It doesn't HAVE to go on the floor! You can take these boards and apply them to your wall, creating a one-of-a-kind feature that's sure to impress.
Join the Pallet Craze
It seems these days that everywhere you look there's a new DIY project for pallets. Well, your walls aren't safe from this craze either! We found this DIY pallet wall project, complete with instructions and we think it looks just fantastic!
This is a great idea for those who want a cabin-inspired look, or as this blogger did, combined with industrial-style furniture for a great contrast.
Farmyard Fun
Did you ever watch that TLC show "Trading Spaces"? Well, we aren't talking about covering a wall with hay, but if you're out of the city limits, you may drive by old barns on a regular basis.
These can be a treasure trove for wood! Make sure you check with the owner first, but if they're good with it, these types of boards can add texture, contrast and in some cases colour, to your home decor.
Just make sure to watch for warping and, since it is outside, bugs!
Tips and Tricks
There are many places to find wood and there's always the option to buy what you like as well. When it comes to choosing what you like, don't be afraid to let your mind play!
Other things to keep in mind:
if you're scavenging for wood, watch for warping or rotting
ensure you remove any and all nails/screws before you start working
look for unique colours in your wood, they don't all have to exactly the same
same goes for sizing; don't be afraid to mix up thinner boards with thicker ones – it simply adds more interest
see what you can work out with patterns
try different finishes – matte or shiny? Stain or paint?
Prep work is very important – both for the boards and the wall you're applying to. Clean up your wood well if it's reclaimed and make sure you've got a good surface to apply to. Some woods you'll be able to attach directly to the wall, others you're going to want to put up some plywood or other materials to attach your wood to.
If you love the idea but aren't sold on the idea of an entire wall, try creating a piece to put in the room before taking the full plunge! For example, you can make a new headboard fairly easily and see how you like it in your bedroom. Once you fall in love with, do the whole wall!
Another idea is to mix and match your wall finish. Paint or wallpaper, and then apply the wood in stripes (either horizontal or vertical). The contrast between the two finishes can create an amazing focal point and you don't have the entire wall covered with wood 😉
While it can be quite the decision to choose a home décor option that goes well with anything, it's not impossible. Besides, it's nice to have different finishes throughout your home, creating definitive spaces and unique touches all over.
So tell us, which idea was your favourite?!