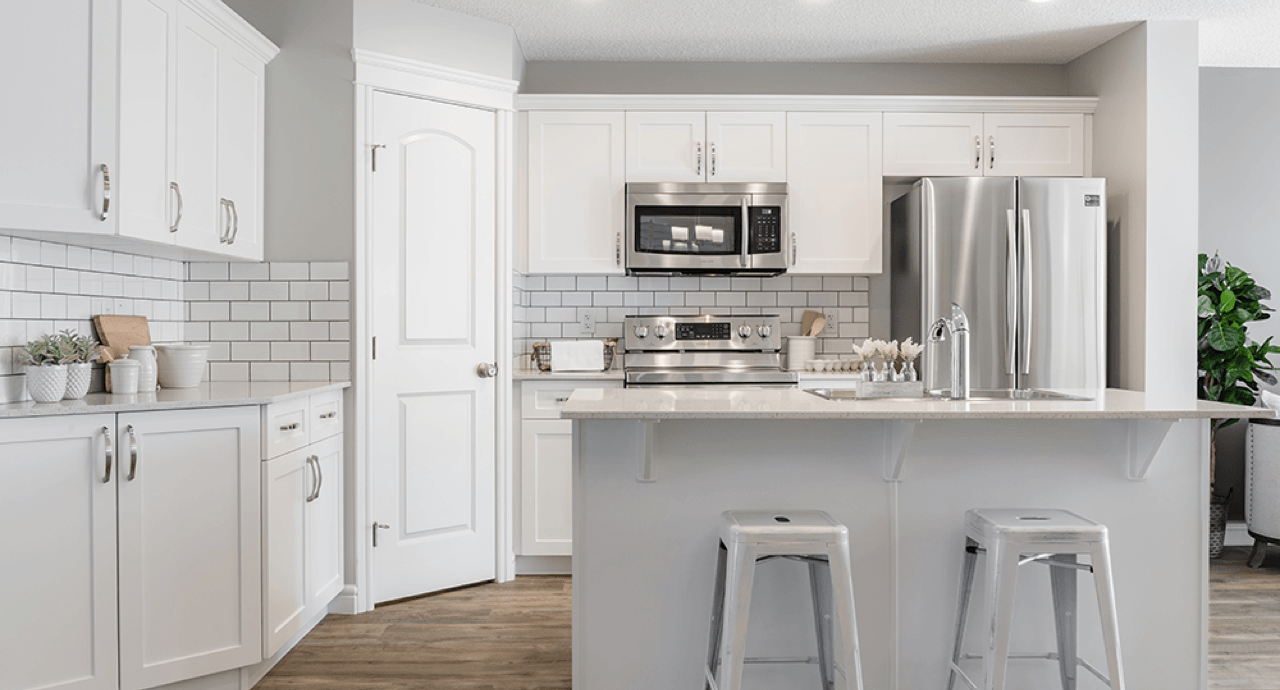 Many home buyers have a lot of questions when it comes to Pacesetter's Quick Possession Homes: 
"What are the pros and cons of a quick possession home?"
"Is there a major difference in the finished product?"
"How does the finished home look?"
To help shed some light on the Quick Possession homes that we build, we thought we'd break down the details and give you some pros and cons to help you decide if buying a Quick Possession Home with Pacesetter is right for your family!
The Pros of Quick Possession Homes
Save Time!
The first pro of a quick possession is, of course, that you can move in quickly! Quick possession homes are either already completed or close to completion, which is great when you need to move in fast! This means you don't have to deliberate over all the fine details such as colour schemes and other potential upgrades that would have to be considered with custom built homes.
This is a major factor for many homebuyers, especially for those who are relocating or need a new home fast.
Finishes and Features

Another great benefit is that all of the upgrades in current quick possession homes are based on the most popular options and colour schemes, decided upon by professionals. This means you know they're going to be in accordance with the latest trends. In short, it's going to look good! And you had to do nothing – easy! 
Since a quick possession home is already under construction, and in many cases almost complete, you have the ability to see the home in real life. This gives you a serious advantage when it comes to planning; will your couch fit on that wall in the great room?
Costs

It's safe to say that these types of homes will, on average, be less expensive than their custom counterparts. This could be a little bit of extra cash or a lot, depending on what upgrades could have and would have been made in your home. With all of the decisions having already been made (including the exterior colours and the model itself), this also translates to a quicker build time when compared to the homes that aren't completed just yet. 
And when it comes to costs, let's talk about your budget. Because you already know the price of your new home, and you aren't going to be making a lot of changes (or, upgrades), you can easily find a home that fits your budget and your needs.
Quality

When it comes to a quick possession home, you can expect the same standard and quality of building that you would have with a newly-built home. In addition, you also get the same home builder warranty with your new home.
Overall, quick possession homes let you move in faster (surprise, surprise!) saving you time and money, and you can be confident that all the features are up to date and follow the latest aesthetic trends in the housing market.
It's important not to see the lack of ability to choose details as a negative feature of quick possession homes. Being your home, you can gradually make upgrades over time. If you decide you want to change the paint colour, it's your home, go ahead! You can always make arrangements to remodel or do minor renovations with the money you saved on your new home purchase!
In some cases, depending on the stage of construction, you might even be able to make some changes in your new home. It's a good idea to talk with your area manager to find out if this is an option.
The Cons of Quick Possession Homes
Details

The cons of quick possession homes could already be clear. The biggest one? If you want to make specific customizations based on your personal preferences, and you want that done at the time of building so you don't have to worry about it later, then quick possession homes may not be for you. If you have lots of time before you need to move in, a larger budget, and unique personal preferences, then a quick possession home might not be your best choice (maybe consider our other models).
The Down Payment

Although Quick Possession Homes generally have a lower cost, building one does require that you have your down payment ready to secure your move in. This can be a downside if you need some extra time to come up with your down payment.
Regardless, the main factors of time and money sometimes don't play into your decision-making procedure when trying to decide between a quick possession and a newly-built home. You may just fall in love with that new show home you looked at and won't want to change anything! You may also have a clear idea of your custom home in your head and won't settle for anything less. In the end, it's about what you and your family want and need in a new home, and only you can be the judge!