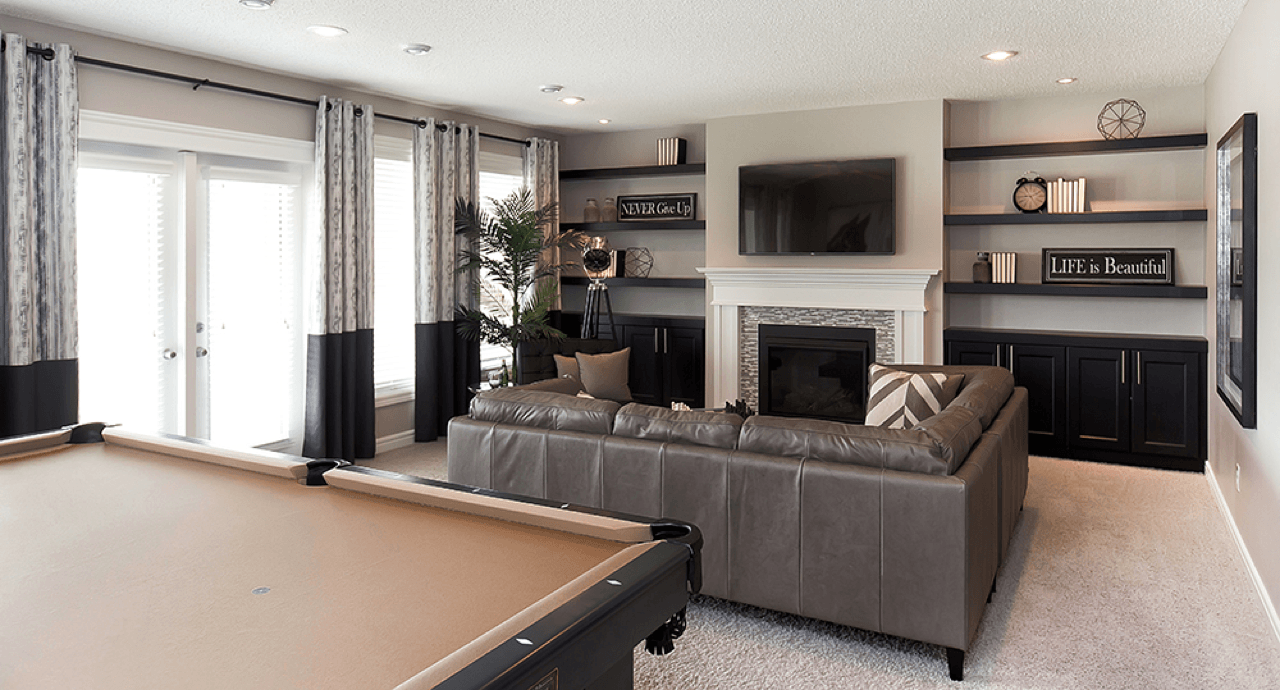 A finished basement can be used for many useful things like a game room, an additional bedroom or flexible storage. Even with uses like these, basements are often overlooked and used as a convenient dumping area.

Many decide to leave their basement unfinished when building a new home. It might be a decision made to save time or money, figuring they can always finish it later. While this might make sense at the time. Will finishing the basement be put off indefinitely leaving you with cold, wasted space in your home? Will it really cost you less time and money to finish it yourself later? These are things you may want to carefully consider when deciding what to do.
Customization 
All our floorplans have a standard optional basement, but we can also customize to your specifications. While the different options you can choose from vary, we always try to include one to two bedrooms, a rec room, and a bathroom.   
Even if you don't need that space, you can add a separate entrance and rent out the area to offset the cost of the build and your mortgage payments. Our tips for building a basement income suite can set you on the right track.   
Legality 
If you intend to rent out your basement (or want a separate entrance), there are certain legal considerations you need to keep in mind. For the average person, navigating the world of real estate law can be confusing. If you choose to finish your basement ahead of time, we navigate those for you and ensure everything is set up legally.  
If you were to finish your basement later, obtaining legal approval can be difficult and you could find you're unable to make the changes you want. For example, it may turn out that your lot doesn't have enough clearance to add an entrance to your basement. It's much more of a hassle if your home is already built to accommodate these things.   
Aesthetic Appeal 
Choosing to finish your basement at a different time than the rest of your home makes it difficult to achieve the same "look" and, often, even quality. You could try to coordinate a cohesive look by hiring a contractor, but any potential damage to the rest of the home would not be covered under warranty. By allowing your builder to ensure all of your colours and finishes match, you can get the quality and style you dream of in your home. Plus, a basement completed at the time of construction will be fully covered by our builder's warranty.  
Speed 
Try to make your decision as quickly as possible, as the time it takes to complete a basement largely depends on the build stage your home is in. A pre-sale home would take approximately an additional month to complete if you chose more extensive renovations. If you decide early, everything will be finished on the day you get the keys, and this means you can move in and start settling in without the need to live through potentially noisy and disruptive renovations.   
While finishing the basement can affect your new home time frame, compare this to trying to renovate on your own. Without a lot of experience, it can take months of time and effort. Mistakes can be discouraging, and the amount of money you can sink into a renovation can be a major blow to your budget. Of all the reasons to finish a basement before you move in, the ability to trust it will be done to the same high-quality specifications and that you won't have to do it yourself later are some of the most compelling.   
Increased Value

We offer dozens of floor plans that can be customized to suit whatever your desires are. Why not make the basement part of that? We've mentioned how a finished basement can provide you with the opportunity to have an income suite, which is a valuable asset. Consider how a finished basement can also increase the resale value of your home.  
If you plan on selling your house in the future, think about how a finished basement will be attractive to other buyers – everyone wants to move into a home that feels complete.  
The builder can handle all the hard work while you focus on planning how you want the furniture to be arranged, or what kind of games you want to include in your new game room.   
Your family will thank you, and you'll thank yourself for not being awake early on a Saturday working on a basement renovation project.