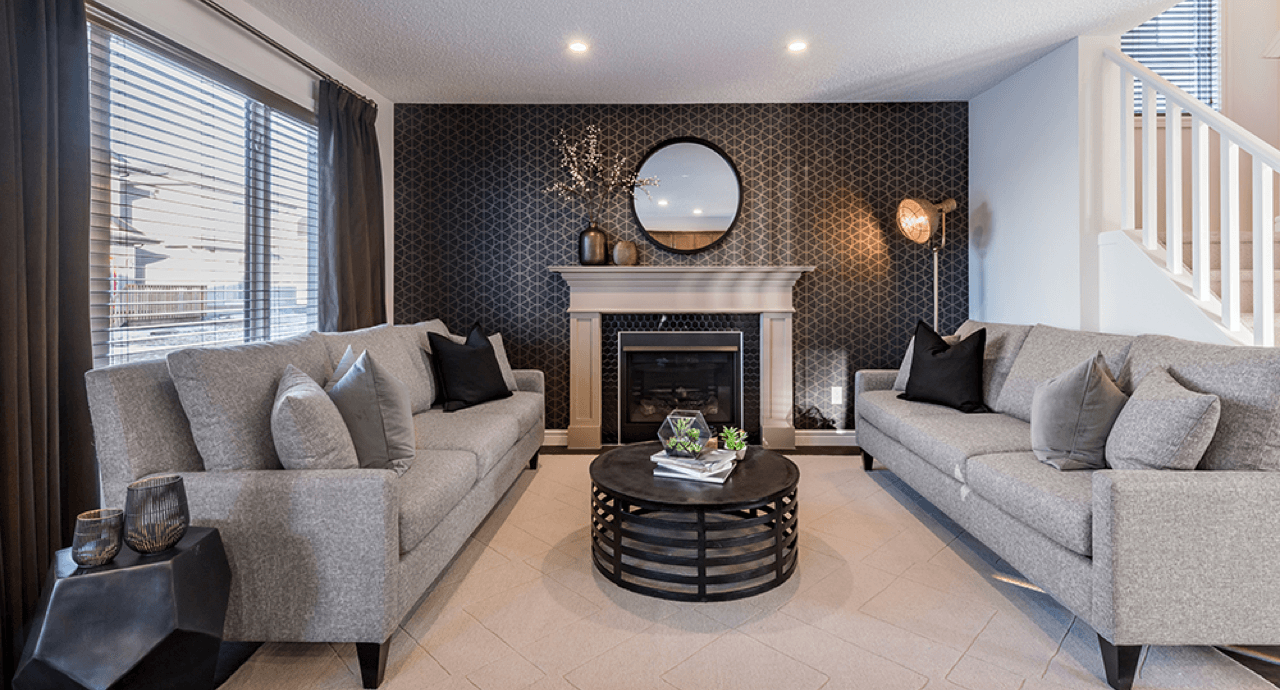 The memory of your grandparents' entire home plastered with peeling, paisley-patterned wallpaper may have knocked the idea right off your new home design list. That's fair, you don't want your brand new home to look dated. 
But wallpaper has actually come a long way! The material used today is much easier to apply (and remove!) and the designs have certainly seen an upgrade as well. As a bonus, it's low-cost and low-maintenance. 
If you're the type that likes your home to feel special and unique, grab hold of the wallpaper comeback and create a memorable feature wall.
Think About Location
Your first step should be to determine where you want your feature wall. Since wallpaper has more of an "active" appearance than plain paint, you might want to go one way or another: let it take centre stage or strategically tone it down. 
For example, choosing the wall behind your entertainment unit living room or behind your vanity in the bathroom are good ideas to help the design "blend in." The wallpaper will be covered in many areas, but showing through enough to pique interest on these central walls. You can keep the rest of the room in complementary neutral tones to maintain balance.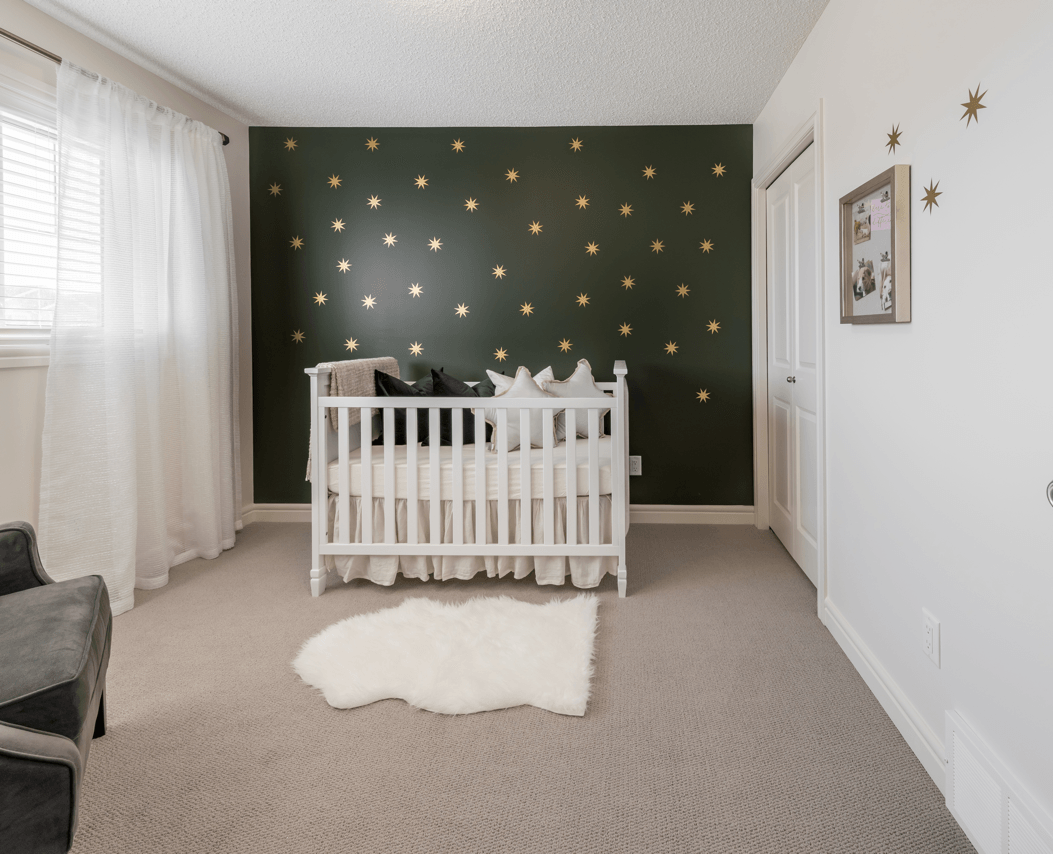 Alternatively, you could go for a more full display by choosing, say, a dividing wall or the wall of your stairwell. These might be areas you would have otherwise left bare, so why not opt for a floor-to-ceiling art piece? 
It all depends on the statement you'd like to make in your home. Read on to discover some ideas to play with!
Let it Shine
One way wallpaper is appearing more elegant and luxurious is through the use of metallics. Instead of a dull, flat pattern, metallic wallpapers have abstract designs in silver or gold over a neutral background. The effect is subtle yet striking when the light hits it, and can actually help make your room appear brighter. 
Additionally, the patterns you choose can have very different outcomes. For example, gold in a cracked or splattered pattern is reminiscent of quartz, making it edgy and modern, while silver quatrefoil patterns over a dusty pink give off a vintage flair. 
Fab Fabric
There are options for wallpapers with designs that mimic the look of fabric. This provides that warm, texturized look in a room where you want a comfortable atmosphere. But did you know you can actually use fabric as wallpaper? 
It's a lot easier than you think. The touchable aspect of it could mean you want to choose a wall that doesn't see too much traffic, though. Your walk-in closet might be that place; try it with that bright, colourful fabric you loved but was too bold for your bedroom. It will provide a pick-me-up every morning as you dress. 
It's All an Illusion
Imagine how fun it would be to see your guests react to your optical illusion wallpaper. Yeah, that's a real thing! And while you may not want something too dizzying for your feature wall, there are many geometric options that would look interesting in a small area. 
Other options include real photos of things like a dock leading out into a lake or a perspective shot of a door at the end of the corridor. These wallpapers have a 3D look that creates the illusion your room expands into a whole new world of your choice (which is also a sneaky way of making the space feel bigger)! 
Make Your Art Work
Like paint, wallpaper is intended to be a backdrop. You'll have furniture around or even up against the wall, and you might even like to hang some artwork to personalize your home. There's a lot of potential for combining wallpaper and artwork but you'll want to plan it out well. If you have a really busy wallpaper design, you're going to want to choose art with big, solid coloured sections and not much detail. You may also want to leave white space between the image and the frame to separate it visually from your wallpaper. Balance is key.
You don't want your art and wallpaper to be so similar that you can't tell them apart, but they must be complementary. You might have a pale green wallpaper and choose an art piece with emerald green and hints of gold for contrast. Another cool idea is to match in "theme." For example, if you have a painting of a large ship, you might pair it with a blue, wave-patterned wallpaper. 
You could even flip this idea completely and keep a painted wall while using framed wallpaper as art!
Make a Scene
Not all wallpapers are just abstract patterns. Many new designs are more akin to posting a giant photograph onto your wall. Scenery like trees, a cityscape, clouds and birds, and more, are options. This works well when you have a theme for your room. For example, you might want your bedroom to have a rustic feel, with real wood furniture and live plants. A forest print wallpaper behind your bed would be the cherry on top. 
Don't Forget the Fifth Wall
Look up! You've found another option for your feature "wall." Ceilings are often ignored, but they are indeed the fifth wall and deserve some attention. Using wallpaper on your ceiling can have a bold impact. 
Create a separation by painting your other walls white or neutral and your ceiling can boast bold colours without clashing with anything else. Patterns are a great choice here, too, as they are eye-catching and make your room feel spacious. Again, keeping the rest of the room toned way down would be a smart decision as to not overwhelm the space.   
Can't Commit?
If you're still having flashbacks of peeling bits of wallpaper away for hours and are hesitant about making what feels like a big commitment, remember wallpaper is made differently now. You're going to want to look for versions labelled "stick-and-peel" – these types can be stripped off without leaving a residue. 
Removable wallpaper is considered temporary but still adheres well. With this option, some companies even let you upload your own design that they will print into adhesive wall art for you. No worries for commitment-phobes, wallpaper can now be changed quickly and easily with the times. 
Designing your new home should be an exciting adventure, and wallpaper offers an outstanding number of options to really showcase your personal taste. Choose a design that's playful, dramatic, enchanting, or regal – in any case, a wallpaper feature wall will leave an impression that sticks. 
Happy to stick with paint instead? Think about how different paint techniques for your feature wall can liven things up!