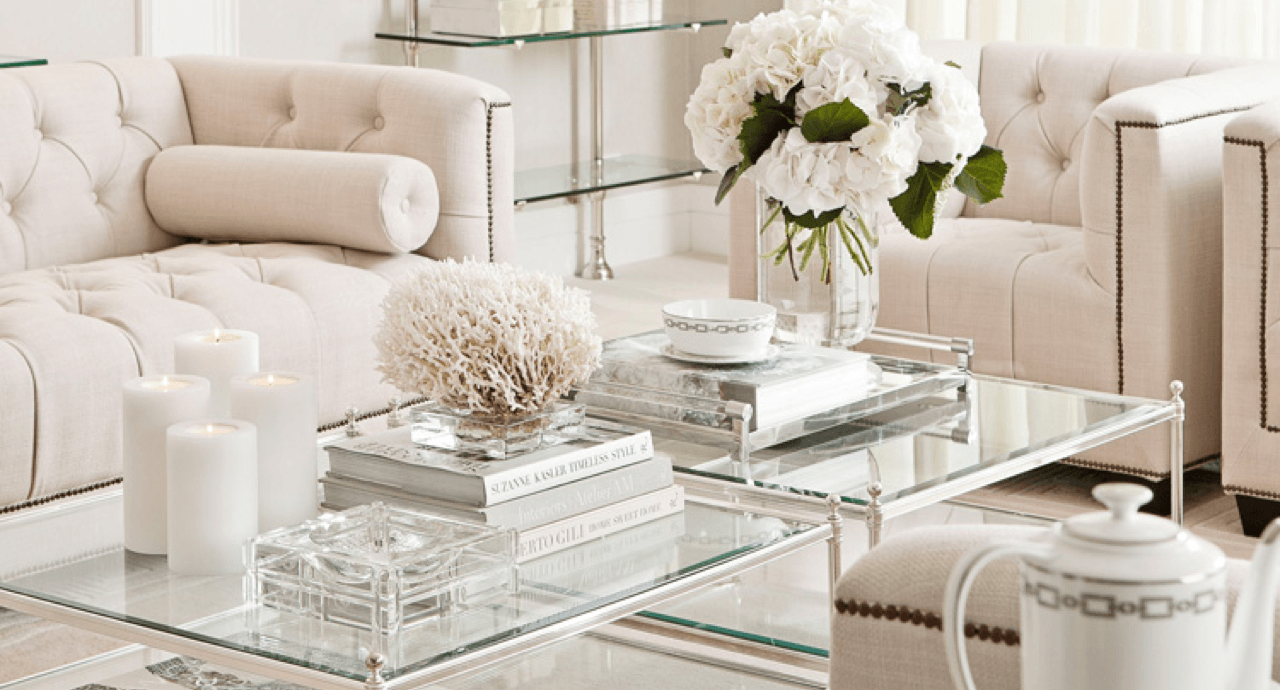 As you move into your new home, you want everything to look just right. Decorating the coffee table or ottoman in the living room is a small touch that can play a big role in setting the tone of the room.  
You don't have to spend a lot of money to get a look you love. 
The key to styling the coffee table or ottoman is getting the right proportion. Remember that it's not there just to look pretty. You might want to set a drink down on the table or rest your feet on the ottoman. No matter how you style the piece, take care to leave enough space for you to be able to use it. 
Using Trays
Many people enjoy arranging their decorations on a small tray, then placing the tray on the coffee table or ottoman. On an ottoman, this serves a practical purpose because you then have a place to safely put your drink without spilling it. A tray is also convenient on a coffee table because you can easily shift all the decorations out of the way when you need more space on the table.  
Start with choosing a material for the tray that creates the mood you want. A wooden tray can create a nice rustic feel. A wicker tray can go with a shabby chic look. A metal or glass tray can create either a modern or vintage look.  
A Bit of Life
Use your coffee table or ottoman to bring a bit of life into the room. This is the perfect spot to put a vase of flowers. You can instantly change the look by purchasing different types of flowers each week. A simple green plant can be nice as well. If you don't have a green thumb, consider succulent plants. They're easy to take care of. Some fake plants can also trick even the most discerning eye. 
Some Pops of Colour
If you've stuck with a neutral theme in the room, the coffee table decorations could be a good spot to experiment with brighter colours. Something in a bright red, hot pink, turquoise, or yellow. Don't be afraid to use a lot of your chosen colour in the decoration. Compared to the size of the rest of the room, it's only a small amount. 
Candles for Ambiance
With a nice, solid surface, some candles could set a relaxing mood for the living room. Consider grouping three candles of varying heights together for an interesting effect and use candles that will fill the room with a delightful scent.  
If you're putting real candles on an ottoman, though, be sure that they're secured in a tray that isn't easy to tip over. Otherwise, consider using LED candles. They give the same glow without the fire hazard. 
Books for Bookworms
The idea of putting books on a coffee table is so popular that there are books designed specifically for that purpose. These coffee table books are typically large with plenty of pictures so that you can occasionally pick them up and look for a bit without having to read the book from cover to cover.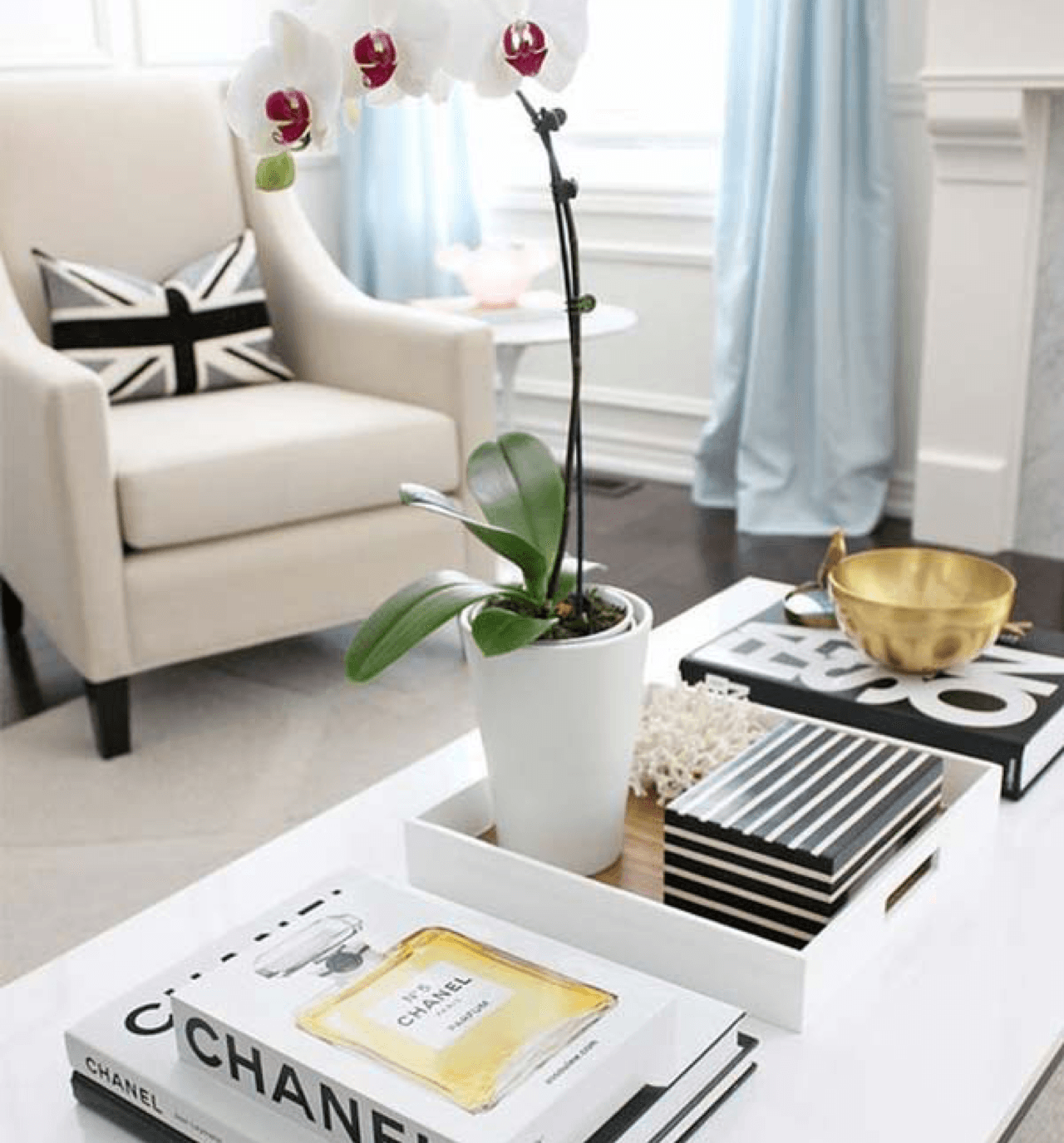 If this is an idea that appeals to you, think carefully about the type of book you choose. While the book is primarily a decoration, you want it to get some use, so choose something that relates to a hobby or interest of yours. 

Unique Pieces
The coffee table or ottoman could be the perfect place to display some of the unique items you have in your collection. You might have an antique toy passed down from your grandfather, a small statue you picked up on vacation, or a small seasonal item that you change from time to time. These are little things that might not otherwise have a good place for display. 
Interesting Coverings
You don't have to place your decorative items directly on the table or ottoman. Consider placing something underneath. For instance, a lace table runner on a coffee table could work well with an antique theme. Draping a decorative blanket or fake fur rug over the ottoman before you place the tray would create an interesting look. 
Practical Solutions
If space is at a premium, don't shy away from using your table or ottoman for storage. Plenty of coffee tables offer storage space underneath, but you could also put decorative boxes or other containers on top.  
If you have a storage ottoman, you want to be sure that whatever you put on the ottoman for decoration can be easily removed when you need to access the things inside the container. 
Think carefully about the theme of your living room, then select decorations that fit your theme. Since most of these decorations are inexpensive, you can easily change the look whenever you want. 
Photo credits: fancy, orchids, antique