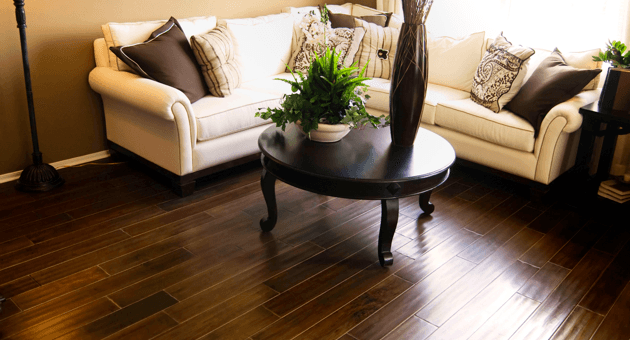 Flooring can make or break the look of your new home. You spent a lot of time picking the exact colour and type of flooring for your home and you love it. So now it comes down to taking care of it properly. We've looked at the top three choices in flooring right now and put together this list of tips on what you should do (or not do) depending on what floors you have.
Hardwood: 
Sweep, dust, or vacuum regularly using the wand of your vacuum cleaner
Use only products specifically designed for hardwood
Clean floors with a well-squeezed damp mop or cloth
Use water-based polishes to restore shine every two months
Too much humidity isn't good for the hardwood – keep the humidity in your home between 35% and 40%
Avoid walking on the hardwood in high heels
Wipe up spills immediately
Keep pet's nails trimmed
Protect from direct sunlight
Never pour water directly onto the floor
Do not use ammonia or bleach
Do not use water and vinegar as it will dull the finish
Do not wax
Use felt contacts under furniture to avoid scratches
Use mats and rugs in high traffic areas and move the rugs regularly so that the flooring stays the same colour
If something is stuck to the floor, use ice to freeze then scrape away with a credit card
Do NOT use rubber-backed mats.
Vinyl Plank: 
Sweep or vacuum regularly without a beater brush
Use door mats to prevent abrasive material entering the home
Use felt contact under furniture to avoid scratches
Lay a sheet of plywood down when moving heavy furniture and "walk" the item across to prevent scuffs
Use water and vinegar solution to clean, or a shampoo and water solution. When deep cleaning, use a small amount of dish soap with the vinegar. If that isn't working as well as you would hope you can purchase a commercial cleanser but ensure it is made specifically for vinyl flooring
Wipe spills up right away
Do not use wax
Use a polish or sealant specifically for vinyl flooring to restore shine
If you have to scrub the floor use a soft nylon brush
Do NOT use rubber-backed mats.
Laminate: 
Sweep regularly
Clean up spills immediately
Use a vinegar and water solution to clean floors, or gentle soap and water.
Allow time for floor to dry after cleaning
Erase heel marks with pencil eraser
Do not wax or polish
Use mats to reduce the amount of dirt and moisture tracked into your home
Use ice to freeze tough stains and then scrape with a credit card
Furniture should have felt contacts to avoid scratches
Do not use bleach
Do NOT use rubber-backed mats.
The above-listed tips will help protect your floors and your investment. Following proper maintenance and making sure you care for your flooring will keep your floors looking beautiful.