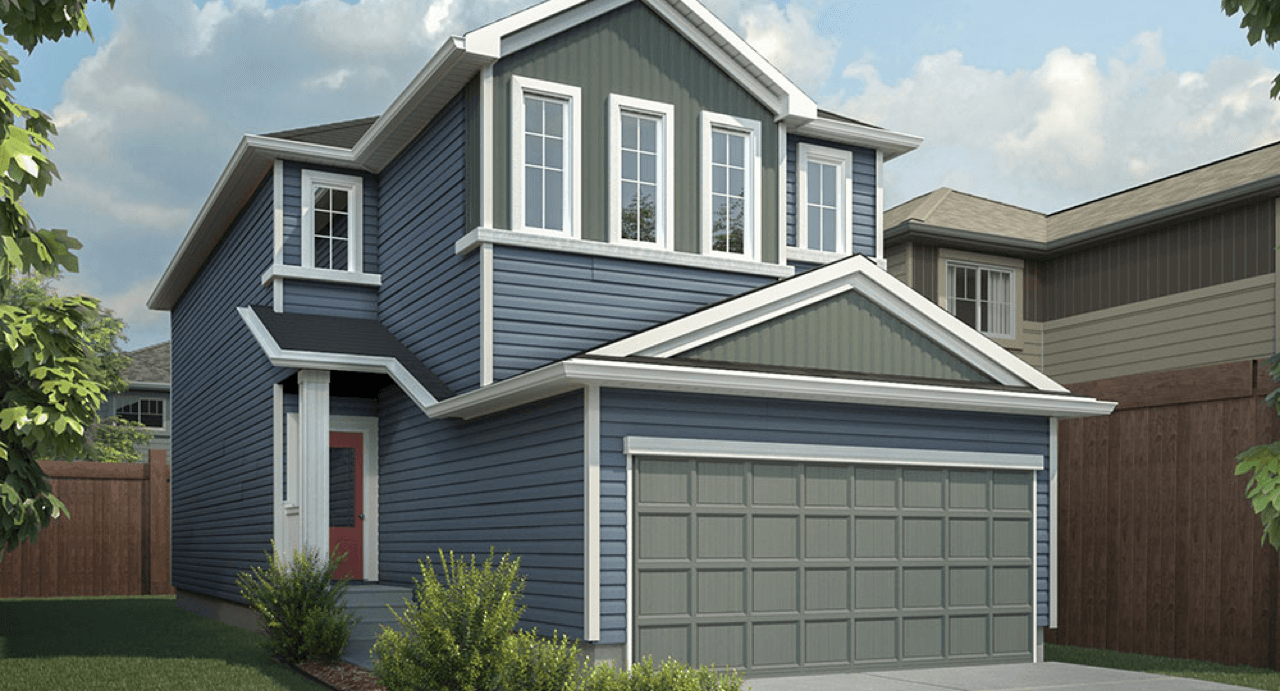 Few things can top a new home in the Edmonton area, especially when it includes all the very best features. If a unique style, front attached garage, and open floor plan appeal to you, The Memphis might be the home that suits you and your family's needs. You'll quickly find that this model not only meets your expectations but exceeds them.
At 1,720 square feet, the Memphis is suitable for most any family to live comfortably. Notable features include a great room, kitchen with nook and island, owner's suite, two additional bedrooms, a loft, and two bathrooms. If having maximum space for entertaining or a growing family matters to you, this is a floor plan you'll want to pay attention to. 
Let's walk through each space and the convenient features you'll find throughout this home. You'll soon find yourself imagining your life inside this marvelous model…
An Open Plan Designed for Your Convenience
The attached garage will add an extra layer of convenience every time you arrive home, especially after a major shopping trip. The mudroom gives you a place to leave your boots before you head into the central part of the house, cutting down on the amount of floor cleaning you'll do. Besides offering plenty of room for cars, you'll also be able to store outdoor and gardening equipment in the garage easily. 
The grand entrance, with open to above views, offers access to a stunning hallway leading into the great room, just past the staircase. A convenient half-bathroom sits nearby. With everything so easily accessible, your guests will feel right at home as soon as they arrive. 
One of the home's greatest entertainment spaces is the great room. No matter whether you use this room for holiday entertaining, hosting sleepovers for your kids, or just for family movie night, the room is a perfect size. With big windows, you'll enjoy plenty of light during the day. 
The nook area between the great room and kitchen offers quick access to your backyard. You'll enjoy having a place where guests can freely travel between your yard and the kitchen, or where you can supervise your kids' outdoor activities. 
A Kitchen Perfect for the Whole Family 
The Memphis' family-friendly atmosphere is emphasized with the kitchen's open design. You can keep everything you need close at hand, with easy access to open shelving and cabinets designed to offer the maximum amount of storage. You'll also have a walk-through pantry that is accessible from both the kitchen as well as the garage entrance. 
In addition to having a nook adjacent to the great room, the kitchen island is perfect for a snack or quick meal. This area is also an ideal place to seat kids while you're preparing food. 
If having plenty of counter space appeals to you, The Memphis won't disappoint! The amount of space is perfect for preparing a holiday meal, cooking up several meals in advance, or putting together goodies for the weekend. 
The Upstairs Area 
One of the most useful features that await in the upstairs area is the loft. This space is cozy, yet offers several possibilities. You could make it a playroom for the kids or use the space for a second sitting area. 
You'll also find two large bedrooms upstairs, conveniently located near a bathroom with a full bath which makes them ideal for regular family use or for hosting guests. These rooms are big enough to be used as a home office or for some other purpose if you don't need both for bedroom space. 
The owner's suite features an ensuite bath that includes both a dedicated walk-in shower with tile accents. The vanity is spacious enough for all your needs, with a dual-sink design that makes it easier to get ready in the morning. 
Some of the other treats you'll appreciate include: 
A linen closet in the upstairs hallway, ensuring access to fresh linens


A dedicated second floor laundry room
The Memphis offers excellent design features that will make it easy for you to enjoy every minute you spend at home. If modern convenience and a family-friendly floor plan is what you're after, this model is the one for you! Contact us today to learn more.