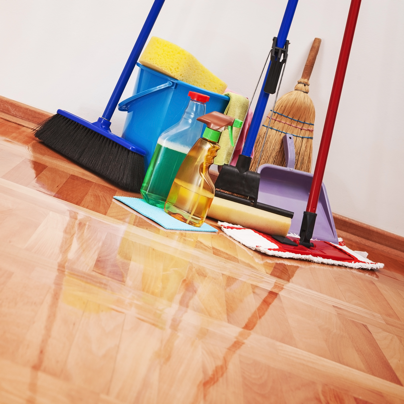 Cleaning your home doesn't have to be an activity you dread. With the proper planning and a positive attitude, you can get your home sparkling clean from top to bottom every week. Spending a little bit of time each day on set cleaning tasks will result in the whole home being cleaned on a regular basis. This checklist will tell you what to do each day, so you don't waste time thinking about what needs to be done. 
Weekly Cleaning Checklist
Everyday
You simply can't escape the fact that the house will need some basic maintaining every day. If you can stay on top of the following chores each day, they won't pile up and become an overwhelming task. 
Make the Beds

 

Clean and Put Away the Dishes

 

De-Clutter

 
Monday
Today's the day to tackle the bathrooms. Every Monday, focus on:
Cleaning the Toilets
Wipe Down the Sinks and Faucets
Clean the Showers/Tubs, Surrounds and Doors
Clean the Bathroom Floors
Wipe Mirrors
Empty and Clean Trash Bins
Tuesday
Every Tuesday will be "Kitchen Day." Your kitchen will look amazing after these steps are completed each week.
Clean and Sanitize the Counters
Clean the Refrigerator
Vacuum and Mop the Floor
Discard Old Food That Has Been Sitting in the Fridge Too Long
Wipe Down the Inside of the Microwave
Wednesday
Wednesdays are designated to cleaning your first floor or main living space. Of course, if you live in a single-story home, this list can be easily retrofitted to work for your purposes. 
Vacuum
Dust
Launder Machine Washable Area Rugs
Fluff and Rotate Sofa Cushions
Thursday
Thursdays are laundry days. Designating one day per week to tackle all the laundry can help you stay on task and get into the routine of regular chores. 
Wash, Dry & Fold Laundry

Wash Sheets & Change Bedding

 
Friday
Fridays we move upstairs to clean. Again, if you don't have a second level, these chores will simply apply to your bedrooms. 
Vacuum
Dust
Fluff Pillows and Comforters
Clean Up Clutter
Saturday and Sunday
Relax! You earned it! You've worked hard all week and now have a clean home to show for it. Enjoy the weekend because Monday it's back to work. 
Tackling a small portion of the house each day will give you a completely clean house without a huge amount of stress or effort. Simply having the chores laid out for you takes all the guess work out of which chores to do. Following the checklist will also ensure that no areas of the house get overlooked. Happy cleaning! 
Photo Credit: DepositPhotos.com